Runnin' Past The Virus
When Covid-19 struck, many sports were canceled; this included track. The team members and coaches were saddened by the news, not only because they had just begun, but because they were excited about the season. When they lost their season, nobody knew what that meant for the 2020/2021 season, especially with being on a hybrid schedule until April 30, 2021.
Like most sports, team members are always wanting to improve themselves. Senior, Cole Delorme, missed out on his season junior year but is excited to get to run his senior year.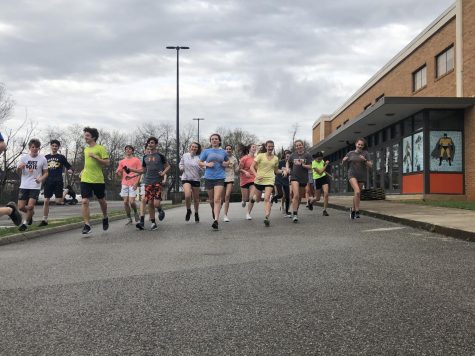 "My goal this season is to improve on my 800 meters and my mile times, hopefully getting into the 2.20s for a half-mile and under 5.30 for the mile," Delorme said.
Running can be therapeutic to so many people, but track runners find much more than an escape; they find themselves, friends, and overall love for the track. It was extremely difficult to miss out on a season, but a comeback is emerging as runners prepare for upcoming meets.
"It was very disappointing for me and the rest of the team [that last season was canceled]; we had a promising season coming up, but had it completely cut off. It was really frustrating. This year I am excited to see the improvement in the team and to see how far I, personally, have come," Delorme said.
Adjusting to a new year also comes hand in hand with adjusting sports. Hybrid is a challenge, but students and coaches have overcome this obstacle and look forward to an exciting season ahead of them.