"Take Me Out To The Ball Game!" Covid-19 style
Here's a sneak peak of sports at LCHS during Covid-19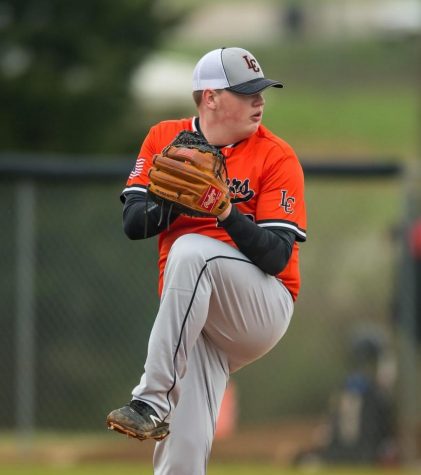 "And the crowd goes wild…" was a regular line used by fans, broadcasters, and even players. The high adrenaline and primal excitement that comes with sports, even in high school, was something that we never thought we (as a world) would take for granted. No one ever saw this pandemic coming but now it's here and things are different for everyone. Regardless of the current situation humans have always been driven to compete in some way and that need to compete keeps students like myself continuing to train and exercise.
Exercise is a stress outlet for all people and at an erratic time like this it almost seems crucial. To keep my head clear and my spirits high I work out frequently. I love to weight lift and do at least 30 minutes of cardio for every hour I weight train. I'm a volleyball player and a female thrower. Staying in shape and practicing with sports facilities is quite difficult. I decided to get a gym membership and go 4-5 days a week while also doing one on one volleyball training with my father. Even if it means passing or setting to yourself for 15 min it counts. Every little bit counts. Here are some ways some other students are staying in shape and enjoying sports during the current situation …
Zachary Lee plays baseball for Lenoir City and is a senior this year. He frequently attends the gym and practices at the field along with staying on top of his nutritional goals. Zach gives an overview of how the conditioning went considering Covid-19, "I play baseball, so being that our on season is in the summer, I would do speed training, and drills I could do by myself. Baseball being an already socially distanced sport we could workout, and do on field training such as long tossing and ground ball work as much as I wanted to as long as no one showed symptoms." This shows how Zach's dedication to his sport and understanding of basic safety helped him to practice and train without having to be afraid of getting sick.
Zach also used some other facilities to stay in tip top shape, "Our travel team has our own field in Maryville, so that got used quite a bit. We would also work on our own personal trainers, I went to Pro Hitting Baseball and D1 Hardin Valley quite often so I could stay at peak performance level." Many athletes have access to places like these to get the extra help they need to be successful. Zach and many others are thankful that these places continued to stay open during the pandemic. Another facility the baseball team used was Aaron Small's baseball barn.
Continuing on with this final outlook on the upcoming season, "This season I am looking forward to having a new coach coming in and trying to change things, and turn Lenoir City Baseball back into the program it once was. I am most excited about seeing what college I go play Baseball for, a few players have already received major interest from smaller DII, DIII, NAIA, along with some other schools, but with the talent we have on this year's roster, I feel like we have a really good chance of sticking some people in our district. If we do that, I believe that some of us will receive bigger offers than we have now."
Football had regular scrimmages as well as on and off practice. Girls soccer conditioned continually throughout the summer with drills, scrimmages, and team bonding. Golf started their matches early into the summer. Their first match was July 29th at Avalon. In this match both boys and girls golf teams faced off against Hardin Valley Academy and Midway High School.
Amanda Matzek fills us in on how the golf team managed considering Covid-19, "Lots of things have changed because of Covid. There are more precautions being taken, but overall the matches are just as fun as they were before."
Band hosted their annual band camp despite Knox county canceling their own. Band as well as color guard practiced all summer long through the heat and perfected their routines. Volleyball practiced by limiting numbers and spreading out practices. There is a new assistant coach this year for the volleyball team. The assistant coach is Mr. Mike Lee and he is a new math teacher here at LCHS. Cross country practiced at the track field and ran around Lenoir City. Most students on the Cross Country team typically run and jump for track.
Many students here at LCHS play sports or participate in band along with color guard. Some students play two or even three sports. No matter what the world throws at the athletes of LCHS they always prevail. Thank you to all of our coaches, staff, athletes and facilities that helped to keep the sports at LC going. Remember to stay safe and "Play Ball!"