Its Time To VS-Go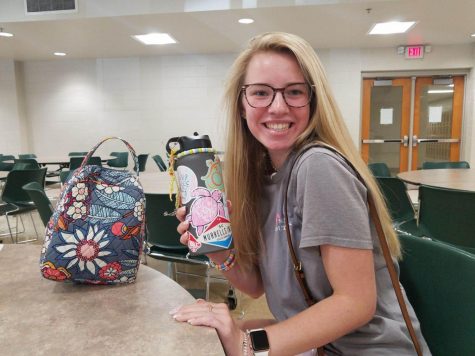 Over the summer of 2019, a new trend on social media emerged that changed the styles of many girls at Lenoir City High School. This trend has even gained its own title, "VSCO Girl(s)". It has spread like wildfire among other platforms.
"I saw somebody had a link on their Instagram bio," says Caitlin Watson (12).
To be considered a "VSCO Girl", there is a path to follow. To be a "VSCO Girl", having specific things is the key to fitting in.
"Okay, to be a VSCO Girl, you definitely need a decorated Hydro Flask, Birkenstocks, Crocks, DIY beaded bracelets, Glossier lip gloss, a puka shell necklace or anklet, string lights for your bedroom, pictures hung on your walls, a Jeep, face masks, scrunchies, Teleties, Nike shorts, and baggy T-Shirts," says Mallory Hurst (9).
VSCO isn't all about how people dress. It is a community for people to be free to share things they wouldn't normally post on other social media. It leaves a positive impact on its users.
"(VSCO is) an app that girls use to put out pictures and their feelings that they wouldn't normally put out. It's an overall positive and trendy atmosphere," says Hurst.
The app has developed its own sense of style in the way many people dress. This goes hand-in-hand with the must-haves Hurst mentioned in her interview.
"Yeah, I am pretty VSCO- I follow all of the rules in every way I possibly can," says McKay Carino (11).
To some students in the school, it is not about the labels and objects that classify you to fit in with this trend. It is simply how you use the app.
"(The app) has its own sense of style in a way. It's mainly about how you post pictures and your personal style," says Lexi Grantham (10).
Teachers have noticed this trend in their classrooms too. Most, if not all, female students follow this new fashion and live by their choice- they take it very seriously.
"The app is clearly inspired by the '90s. Back then it was called hipster. This is like an evolved hipster. We lived through this once and we do not need to again. Now that a random video has gone viral, kids are making that annoying noise and it's just silly. You can fit in with this and not stand out too much. Be how you want to be, and if you want to camouflage yourself that is your choice," says Mrs.Crabtree.
The trend is still going strong after months of its progression and will be associatedwith this generation far into the future.