Marvel's Black Panther Movie
More stories from David Weaver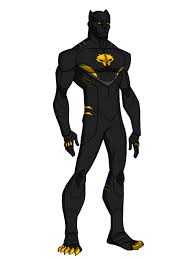 Marvel announced it's Black Panther movie to be released November 3, 2017, but not many people know very much about the character Black Panther or that King T'Challa (as he is known to his people) rules the landlocked country of Wakanda in Africa.  He took up the mantle of Black Panther from his father, who received it from his father, and so on.
Even though the Black Panther has been scheduled his own movie, he is also rumored to appear in Avengers: Age of Ultron.  In the Age of Ultron trailer, we see the picture of someone who appears to be Ulysses Klaw, a super villain with nearly complete control over sound, murderer of T'Chaka (the Black Panther's father), and T'Challa's archenemy. Also, there is also a tropical forest biome in the movie. If T'Challa is to be in the movie, the building there is probably somewhere in the jungles of Wakanda. Wakanda was always a big part of many of Ultron's plans, for the area is rich in deposits of vibrBanium, which Ultron always uses in his armor. Wakanda is also home to some of the most advanced technology on the Earth, and is extremely isolationist.  For the Avengers to flee to Wakanda sovereign borders to escape Ultron makes sense.
Returning to the Black Panther's story, after debuting the Fantastic Four, he joined Captain America in Tales of Suspense to join the Avengers.  During his time as an Avenger, he assisted Dare Devil in Hell's Kitchen and battled Doctor Doom.

In the way of a movie, at some point T'Challa will have to earn the Black Panther mantel after his father dies. The movie could probably go on to show him seek revenge on Klaw or work the alleys as one of the street-level heroes. Like all heros, the possibilities for plots are endless because many heros have many enemies. There is a tribe of gorilla worshipers that live inside of Wakanda's borders who hate the panther worshipers who are led by T'Challa. It could be that they are the enemies in the movie.  With many more possibilities for enemies, there could be plenty of surprises ahead that will make fans everywhere flock to theaters.
Leave a Comment