Mulan makes disney gray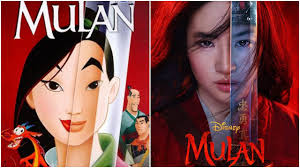 Disney's Mulan is one of the first major releases since the coronavirus pandemic shut down movie theaters around the world, originally scheduled for wide theatrical release in march 2020. But before getting started, just a quick walk through the movie. In June 19, 1998 Walt Disney pictures and Walt Disney animation released the first animated movie of Mulan with a running time of 87 minutes. Years later, in February 1, 2005 (USA) They released Mulan ll, due to it being a very successful movie that little kids and adults enjoyed.
This story is about a very young girl "The only child of her honored family" called Hua Mulan. When the Huns invade China and one man of every family is called to arms. Mulan's father who is an old man that can not walk properly decides to fight for his country in honor of his family, though it is clear that he will not survive his enemies encounter.
Mulan, who just got rejected by the matchmaker because she set it on fire, decides to prove she is worth it and steals away to fit her father's place in the chinese army. The chinese army only accepted men so she became one, meaning she got a haircut and pulled it up, also dressed like a young boy so no one could recognize her and went to fight for her country and family. This act of bravery took her very far where she almost lay down her life to safe China. People didn't believe in her, though she did not allow anyone to tell her what she was capable of doing and kept going until she got the victory and everyone found out that she was a woman and fell in love with a dashing capitan along the way. Then she was very honorific and a model showing that women can be also very strong as well as men.
Now that we all know what the movie is about we can answer the question, why Mulan has disney gray? Coming back to 2020 they released a non-animated movie of Mulan. It was very expected by the fandom. Even I got very excited about it. The studio ultimately premiered the film on September 4 Disney+ for a premium fee in countries where the service had launched, and is starting to hit theaters abroad. Although certainly not without controversy. Mulan has been plagued by calls to boycott the film. Which began in august 2019 when the star Liu Yifei appeared to show support for Hong kong's police, who have been accused of violence towards pro-democracy protesters. Again the actress shared an image published by the chinese newspaper people's daily, that included a quote from chinese reporter Fu Guohao that worked for the Global times, "I support Hong Kong police. You can beat me now. What a shame for Hong kong." Then many people started tagging #banMulan or #boycottMulan.
My personal opinion as a writer is that Liu Yifei is an actress that Disney hired to act but they did not sit and ask her what her political views are or what she thinks about racism, the list continues… But instead they just needed someone that was able to act to make a movie happen, and that's what happens with many actors, their personal opinion or what they think about facts that happen daily does not have nothing to do with what their work is. Now, for example: There were some countries or states that listened to the community and police officers stopped showing up due to what their coworkers were doing, but what happened? Criminals showed up instead and there were people killed, so the protesters stand and say why the police are not protecting the community? Because they asked for it! So a movie that many kids and adults love should not be banned just for a personal opinion.
Of course if there was something that the actress did to damage the community, then it is a reason to do something. We should be able to express our thoughts or beliefs without someone forcing us to think the same as a group of people. If someone does not agree with something then do not watch it, that's why we have the privilege to choose what we want our entertainment to be or what we eat, what we think, etc… And I invite people that are reading this to first investigate and decide about a certain topic and if that they are protesting about, in this case "Mulan" is promoting something that they think is not right and then give an opinion.