Under Construction
More stories from Kiyah Moore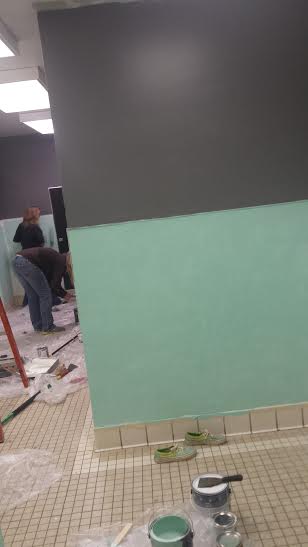 There's a strange rumor circulating around the school. There seems to be a hushed whisper about "Super Girls" and remodeling, and then there's always the scrappily constructed explanations about exactly why the girl's restroom across Mr. Camp's classroom is "Out of Order".
I am going to satisfy the yearning for answers throughout the student body.
The girl's restroom is shut down for drying paint. Yes, the girl's restroom is being repainted. It's not just any paint job; however, it's a paint job with a purpose.
The idea came about when I was invited by art teacher, Mrs. Tyler, to attend one of the school's Coordinated Health Team meetings (or Healthy Team for short). The team is comprised of just about everyone contributing to the atmosphere of the school. There's the SRO, administrators, teachers, parents, students (me), etc. The focus of this team is to address every aspect of the school and make changes that would promote positive changes–healthy changes.
Upon the end of my first meeting, every person at the meeting was asked to bring ideas to the table.
As I made my way down the hallway and into the girl's restroom I was really focusing on the psychological aspect of the school, and as I looked inside the stall I was entering, I had a harsh realization. The girl's restrooms very well could be the most negative place in the entire high school. The restrooms are the only place where one can be alone–be it to cry, to relax, to do what restrooms are meant for, or even to lash out on other people through a Sharpie to the wall.
The words on the walls are what drew me in. This harsh, nasty word crime has been going on forever. The walls howled negativity, so how could it be better?
That's where my idea of repainting the restrooms in positive colors, words, and even chalkboard paint on the inside of the stall walls to be written on–with positive words.
A team I assembled along with Mrs. Tyler called "Wonder Women" put together design ideas, color palettes, and other means of redoing the girl's restroom. We wore old clothes and spent an entire day the Monday before we returned to school sanding, scrubbing, and painting.
I cannot reveal the colors that we chose to paint in because it's a surprise to the female student body.

The Wonder Women hope to expand the remodeling to the remaining to girl's restrooms and to put together programs that inspire, motivate, and encourage self respect and value in the teenage girls who attend our school.
Leave a Comment