Is Bridgerton Worth the Watch?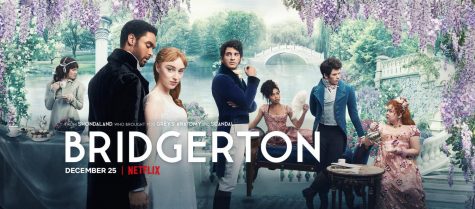 Bridgerton, the recent Netflix show has become beyond popular. With all sorts of trends coming along with it. The drama within each episode has had many people on the edge of their seats watching all episodes in one sitting.
Freshman Lauren Greene said, "I really like the show and how close to historically correct the show is."
The show does a great job at focusing equally on each of the character's conflicts and not only focusing on the relationship of Daphne and Simon. They add so much detail into the setting and design of the show to make it fit the European 19th century aesthetic and it really draws watchers in.
"It gives such an interesting perspective on how girls lived in the 1800s," said freshman, Merina Cooke.
Bridgerton shows the main character getting courted by many young men while there is a Gossip Girl-like character spreading rumors like the plague, who you don't find out who it is until the end. The main character and love interest have a very complicated courtship which only adds to the drama of the show.
"I love the plot and how well it's developed," said Cooke
The show certainly has some ups, downs, and twisty turns to spice up the drama and it is definitely a good watch.