Battling Grades
More stories from Elaney Young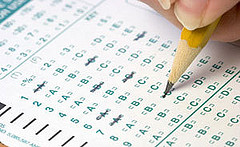 Loudon versus Lenoir City is an incessant rivalry in Loudon County. Each year, the high schools have a major football game determining the best team. Seldom do people realize the important battle the county face as high schoolers; academics. Each year, as a high school student, it's required to take both End Of Course exams (EOC), and final exams.
Last year, with composite test scores, Lenoir City went up in their overall percentages by .1%, and Loudon High School went down by a full three points. Loudon has released many statements saying that they are opting to add additional classes for help in taking the ACT, and even for helping their students pass rudimentary classes. Meanwhile, Lenoir City High School is working on adding in additional vocational and college prep classes. Millions of dollars worth of scholarships go towards both Loudon and Lenoir City students each graduating class, and even more would be rewarded if their overall testing scores would rise above and beyond.
So next time you go to take a test, whether it's a state given test, or just a mediocre day-to-day test, use your best judgement and try your hardest. Sometimes your grades don't only affect you, but the ones around you, too.
Leave a Comment