Musical of The Month- December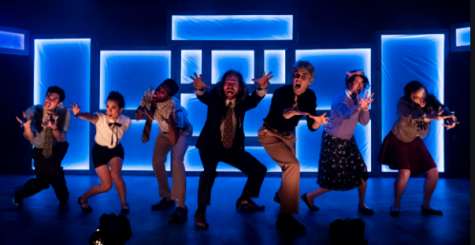 December is a time for family, presents, and money. It's also the month with holidays, that includes Hanukkah, Kim Seokjin's birthday, Christmas, and my personal favorite; my birthday. So this month is going to be my all time favorite musical, The Guy Who Didn't Like Musicals.
This show begins with a group of narrators that sing the opening song, The Guy Who Didn't Like Musicals, and after they're finished with the opening act the group disperses to reveal Paul, the main character, and his two co-workers, Charlotte, and Bill. The beginning portrays a typical day for the three characters.
After getting reminded of his report that's due by the end of the day, Paul decides to go out for a coffee at the singing cafe, Beanies, where an Emma Perkins works. The character is introduced by her angry boss after Emma refuses to sing for a customer and she threatens to fire Emma if she doesn't sing. Paul and Emma have an awkward conversation about their dislike for theater and musicals. However, their conversation is interrupted and Paul leaves. While walking back to work Paul comes across a 'Go Green' advocate for a charity called Greenpeace. He lies about already giving to the organization. Again, the conversation is interrupted by unusual weather patterns, it sounds like a storm is coming. The scene ends and it cuts to the other characters, while showing foreshadowing of their connected stories.
The next scene shows Paul walking to work and he passes by the Greenpeace girl again, however, this time she bursts into a song and others join her in the 'La Dee Dah Dah Day' song. By the end of the song Paul freaks out and runs to his work building, this is where he meets his co-workers, but he is quickly called into his boss's office. This time his boss breaks out into a song called, 'What Do You Want, Paul?'.
Paul flees to Beanies to get some coffee, but as he confides his worries into Emma she labels him crazy, but she is whisked away by her singing boss's and has to perform the dance and song 'Cup of Roasted Coffee.' However, after her Boss's add an extra, unpredicted dance scene Emma is over the singing and dancing. She makes a huge scene about quitting, but everyone starts to act weirdly and Emma finds out about the poison in the coffee. While everyone in the shop is transformed into singing and dancing zombies, Paul and Emma escape the 'Cup of Poisoned Coffee' song.
Emma and Paul run into an alleyway, where they run into Pauls coworkers, Bill, Charlotte, and Ted. Before any of them can come up with a plan to escape the town of HatchetField, Charlotte's husband, Sam the Police Officer, arrives and he and his deputies sing 'Show me Your Hands.'
Eventually, The group runs away and they decide to go to the local survival expert, Professor Hidgens, however, after he examines the situation more closely he turns evil and joins the musical zombies. Only Paul and Emma escape from their enemies and run into some Government men that are trying to contain the infectious zombies. Disaster strikes again and Paul decides to go to the mothership that resides in the downtown theater. Many of the friends he had lost showed up to try to stop him, but after much struggle he was finally able to succeed, but lost his life in the process.
The final scene is weeks after Pauls death and Emma is shown with another government agent. They give her a false identity to protect the secret of what really happened in her hometown. Emma, now known as Kelly, is greatly surprised when she finds out that her escort to her new home is Paul, a singing and dancing Paul.
This musical is one of my favorites, because of the unique songs, the story, the ending, the name of the musical, and also the actors. Star Kid didn't have to much money to work with, but somehow this musical seems so much better with the low budget than any high budget musical I have ever watched. All of Star Kids productions have been very funny and the stories are equally as intriguing. Words cannot describe how unique each of their shows are and how they communicate with the audience on stage.