Musical of The Month
A stage where many people come together to dance, sing, and perform for an audience is the embodiment of a musical. This month there have been many musicals that were applicable for the 'Musical of The Month' spot, but only one musical could make that number one spot. This time around it is Hadestown.
"Hadestown sounds kinda like rock music," said Marissa Lequire(9)
Even though Hadestown is folk/indie folk music, Lequire felt like the beginning song, "Road to Hell", sounded like rock music.
Hadestown is a story that was written by Anaïs Mitchell. This story is about a songwriter, Orpheus, and his wife, Eurydice, living in a great depression where the goddess Persephone isn't doing her job and spring never arrives.
"To me the beginning is interesting. It starts out sweet, but turns out to be depressing." said Ashely Ward(9).
Since Orpheus is to busy working on his song that will allegedly bring back spring, he neglects Eurydice's needs, and she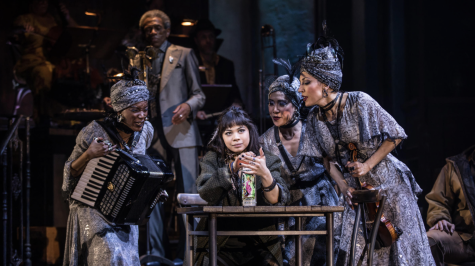 decides to choose survival over Orpheus and goes to Hadestown with Hades to work on the wall that surrounds his underground town. In return, Eurydice will be able to live in Hadestown and not have to face the harsh winter. Orpheus faces many trials to reach his love.
"It's a love story and they loved each other but Orpheus was being dumb." said Hannah Casman(10).
After Persephone and Orpheus finally convinces Hades he gets to take Eurydice back to the surface. However Hades has one condition: he cannot look back and see if she is following him. Orpheus makes it the entire way back to the surface, but his doubts overcome him, and before he reaches the surface, he turns to see if she is there. She was behind him the entire time, causing him to lose her.
"It's really sad and could've been avoided if someone would've told them." said Casman(10).
I love Hadestown because of the emotions you can feel during some of the more inspirational songs. During wait for me the instrumental music sounds so emotion filled and
"I would listen to the musical, but I don't really listen to rock music. But the song was great." said Marissa Lequire(9)
Even just listening to a single song can introduce people into a musical that they had just discovered. This musical can attract people from all walks of life and from all age groups.
The Hadestown story is one that likes to jerk and push your feelings around. One moment they're all singing and dancing, but then a depression overcomes everyone and the cycle repeats. This timeless tale is wall cracking.