Ella Baker: the Mother of the Civil Rights Movement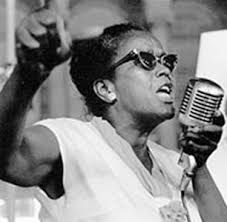 "The major job was getting people to understand that they had something within their power that they could use, and it could only be used if they understood what was happening and how group action could counter violence,"
These were wise words spoken by Ella Baker, a known hero for the civil rights movement. Playing one of the most important roles in this movement, Baker was involved in many organizations such as the NAACP, Martin Luther King's Southern Christian Leadership, and the Student Nonviolent Coordinating Committee. She was one of the many faces of this movement, helping herself and many others break away from the harsh segregation laws that they were having to face.
Ella Baker's resistance to the unfair treatment was largely inspired by her grandmother, who was a former slave and faced the fight against injustice throughout her daily life. Baker's motivation and inspiration from her Grandmother caused her to become the "Mother of the Civil Rights movement," along with having her own campaign which is called the Ella Baker Center for Human Rights.
It being Black History Month, it is important to honor and remember those who helped lead this country out of a difficult time. Ella Baker was a strong political leader who greatly impacted the Civil Rights Movement. She was the type of leader that was "behind the scenes" because she did not have to say a word. People wanted to follow her because they wanted to be like her.
Her actions spoke loud and clear and they always showed her true intentions. She was–and still is–a hero for the Civil Rights Movement. Her legacy is one that will live on forever!