Rose Marie Hinton McCoy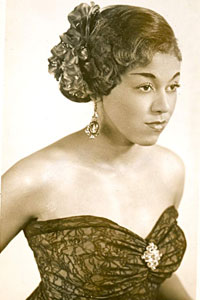 In the United States during the 1950s, African American woman Rose Marie Hinton McCoy debuted into the jazz music industry with her songwriting. Her career lasted over 60 years, where she would continuously sing and write music. McCoy was incredibly talented and highly influential for the black community during her time and even after.
Marie Hinton was born in Oneida, Arkansas in 1922, where she later attended a two room elementary school and worked on the farm her parents rented. Although the area she grew up in was known for being the birthplace of blues music, her small town considered that "the devil's music." 18 miles away from her home in Helena was where Hinton discovered music. Her grandparents lived there, and she was sent to live with them to attend an all black high school in the area; the high school performances were where she would be exposed to jazz music. After becoming intrigued by the music she was hearing, she dreamt of becoming a professional musician.
In 1942, Marie Hinton turned 18 years old and legally added Rose to her name. Shortly after, she moved to New York and began singing at small clubs and learning how to perform. Only a year later, she returned to Arkansas on a quick trip, where she would meet up again with her high school sweetheart, James McCoy, and marry him. Once James was in the U.S. army away from home in Germany, McCoy began traveling and opening for top performers.
In 1952, ten years after moving to New York, McCoy recorded two of her songs under a record label whose goal was to emphasize black musicians. The songs quickly reached even bigger labels, therefore, causing them to reach out to her. These companies didn't want McCoy as a singer as she had hoped, but as a songwriter instead. She had been writing songs since she was a young child, so the skill came easy to her. She was able to write songs for other artists that became hugely popular.
After McCoy's first few songs she wrote for other people became hits, she became unstoppable. One of her most well known songs is "Trying to Get to You," which was included on Elvis Presley's debut album. The cycle never stopped, and McCoy just continued to get hits that reached the Billboard charts throughout her entire lifetime. Being a black woman in the music industry during these years was not at all easy for her, but she persevered and ended up having more than 360 different artists record her tunes. Her last song recorded was in 2013 by Billy Joe Conor. In the year of 2015, McCoy died of pneumonia at the age of 90. Calling this powerful woman 'influential' would be an understatement looking at all that she had achieved. Rose Marie Hinton McCoy's legacy will always be remembered and will always be known for the impact her amazing music has left on others.