A New Royal Child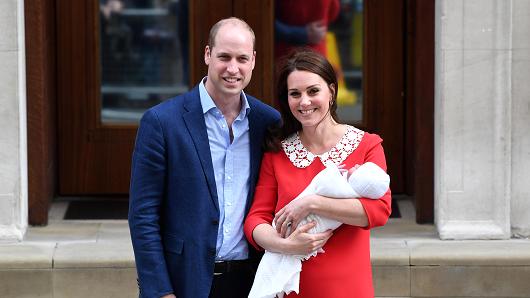 Last week, a new royal baby was born and created a buzz. This is the third royal child from Duchess Kate Middleton and Prince William. The new baby, a boy, was born just a few hours before seeing his new home. The new prince's siblings, Prince George and Princess Charlotte, met their baby brother in the hospital he was born in, St. Mary's.
After being born, many people wondered what the new baby's name would be. William and Kate would not tell the name and offered no hints on what it could be. A few days later, his official birth certificate was released. His name is Prince Louis Arthur Charles of Cambridge. Just like his siblings and parents, he does not have a last name.
Grace Caughorn (11) expressed her happiness on the new royal child.
"I think that the new baby is precious and is a wonderful new addition to the royal family," said Caughorn.
Many other people agree that the new baby is a cute addition. The queen loves him and greeted him with loads and loads of flowers. The queen's visit also coronated with Charlotte's third birthday.
"The new baby is going to grow up and be a great kid, I believe. I really like the name Louis," said Caughorn.
According to USA Today, "The name Louis is more closely associated with french monarchs, such as Louis XIV, the sun king. In British royal terms, the name can be seen as a touching honor to the baby's great grandfather, prince Philip, 96, and a posthumous honor to lord Louis."
When and if the royal family has another child, the chances of the name being related or similar to another family member is highly likely. For now, though, the world is greeted and pleased by Louis.
https://www.harpersbazaar.com/celebrity/latest/a19823764/royal-baby-prince-louis-birth-certificate-full-name/
https://www.express.co.uk/news/royal/953927/The-Queen-visits-royal-baby-Prince-Louis-at-Kensington-Palace-by-helicopter
https://www.cbsnews.com/news/royal-baby-duchess-kate-prince-william-third-child-no-baby-name-live-updates-2018-4-23/
https://www.usatoday.com/story/life/people/2018/04/27/royal-baby-kates-new-prince-louis-arthur-charles/549429002/