Woman fights off tiger with a stick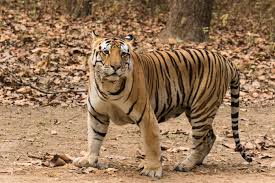 People think that the relationship between animals and humans are the best. Well, not in this horrific and very interesting story. Rupali Meshram, an Indian woman, was in her home when she started hearing her goat crying and making strange noises. When she went outside to see what was happening, she saw a very disturbing scenario: her goat was being attacked by a tiger.
When Meshram saw what was happening to her goat, she took a stick and started chasing the tiger. The tiger became more furious and focused all of its aggression on Meshram. After a couple minutes Meshram's mother came outside and saw the horrific event and pulled Meshram away from the tiger. Unfortunately, the goat did not survive this attack. The doctor who treated them told media how brave the woman was and described her actions as "exemplary courage," but that she was lucky that she was not bitten by the tiger.
Jijabhai Meshram, the mother of Rupali, told spoke in an interview with a BBC reporter that she thought her daughter was going to die. She said that they alerted the forest guard about the tiger, but the animal left before they got to the scene. These kind of events are not unusual for this area because there is a wildlife park nearby.
Jenifer Barahona (12) described this event as horrific, and believes that the police and animal control should be working together to try to stop these kind of events in that area.
"I cannot imagine living in that kind of situation. The people who live there should demand more support to the community there, especially if it is a poor community. I mean, just think about having a tiger or other kind of animal outside of the house in the middle of the night!" said Barahona.
The women said that they are a little bit terrified to come back to town after the attack, but that they are not scared to go back there.
Sources:
http://www.bbc.com/news/world-asia-india-43637854
https://nypost.com/2018/04/04/woman-fights-off-tiger-with-a-stick/