Austin, We Have a Problem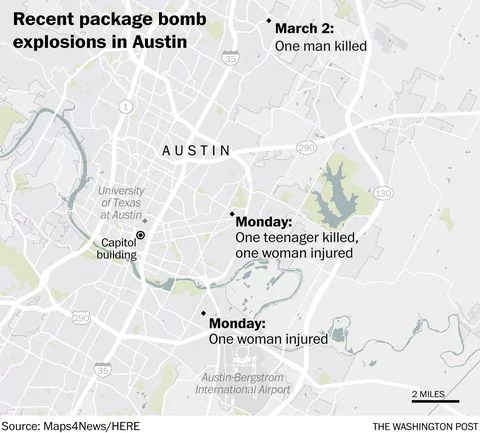 An explosion: one of emotion and social commentary; one that creates a stigma of fear, a remembrance of a past one wants forgotten, a strike against progression. Two explosions: a creation of a state of hate and uproar of horror.
Austin, Texas was hit with an emotional tremor when the city was introduced to a terror. Three packages were delivered to homes and the packages contained a hateful surprise. The first, on March 2, landed at the house of Anthony Stephan House, who died from his injuries when the package exploded. Two more were reported with the same mode transformation: a pipe bomb pack. The victims were Draylen Mason and two woman in Montopolis; Mason died, but the two women were only injured.
​"I think that it's crazy how people can have the energy to be hateful and murderous. If people were all just kind to one another some of these things could be prevented. I hope that they can figure out what is going on before someone else is killed," said Michael Johnson (12).
But the community in Texas was not the only group that was hurt. It was noticed after House and Mason's deaths that the victims were people of color, leading people to believe that these bombings were hate crimes.
The case grew further when a fourth bomb went off through the triggering of a tripwire that injured two men. Although the way the explosion was quite different from the previous four, investigators on the case thought it was linked to the others. The police called the bomber sophisticated because of his new technique. Then, one more explosion occured before the end of the 20th.
Fortunately though, the case was not long lasting because on the morning of March 21st, Mark Anthony Conditt was named as a suspect; and when the police attempted to keep him off the interstate, he drove into a ditch. Conflict quickly ended with a bang when Conditt used his own explosive to take his own life.
"It is the outcry of a very challenged young man talking about challenges in his life that led him to this point. I know everybody is interested in a motive and understanding why. And we're never going to be able to put a (rationale) behind these acts," said interim Austin police Chief Brian Manley to CNN.
But what does this mean for the lives that were abruptly halted when their loved ones were taken away from them? And with Conditt dead, will America ever have a motive for the terrorism that took place in Texas?
Sources and Extra Reading Material: Washington Post "The Unique Terror", CNN timeline of events, Washington Post the fourth explosion, Fox News, CNN about Conditt, CNN recording, CBS News Anthony's recording, NY Times