Are We Alone?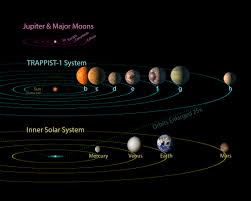 "Are we alone?" is the quintessential question regarding space. We are getting closer and closer to an answer each day. With new systems being found each day the closest system ever that could be possibly sustain life has been found.
TRAPPIST-1 (The Transmitting Planets and Planetesimals Small Telescope) has been used to confirm two planets existence and discover five more. These are the most planets Earth-sized orbiting a single star, however it is outside the solar system at two-hundred and thirty-five trillion miles away. All of the planets could potentially be habitable, with the possibility of water on each.
"Finding these planets, to me gives me hope for the possibility of expansion for the human race. I'm a very adamant follower of any space travel and discoveries so this news of the seven discovered planets excites me," Jake Eichelberger (12).
As of now it is believed to have three of the seven planets in the habitable zone to which could host liquid water while the other could host more ice. Based on the size on the first six, the densities suggest rocky terrain, but the seventh could be a destitute land of ice. The TRAPPIST-1 could be the best chance of extraterrestrial life.
Next year, a new technology system, James Webb Telescope, is being launched to find out new information on these planets and possibility of life. It will be able to tell the atmospheres contents, and its potential to conduct life. The telescope will be able to detect if water is present on the planet or not.
In the next few years the answer could be known. Are there other life forms coexisting?
We might just make it to the point where we can colonize space. Our future could be held outside of our solar system.