Some good deja vu for Tennessee!
More stories from Tanner Cook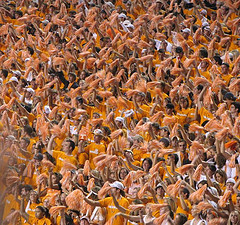 Finally some good déjà vu for the Tennessee Vols as they win their second game in a row. UT fans were very concerned about whether or not a win would be in store, but Coach Butch Jones and the Vols came through again.
Within the first minutes of the game, Arkansas State scored its first touchdown but did not make the extra point. Not long after, UT got within 1 1/2  yards from the end zone amd scores a field goal. Finally, as the clock hit 3 minutes left in the first quarter, the Volunteers scored a touchdown. The second quarter brought two more touchdowns for the Vols. The Red Wolves also scored a touchdown. The half time scores were 24-12 with Tennessee ahead.
The start of the second half brought out the bad side of the Vols offense, but the defense was able to recover a fumble and get the ball back. After even more bad plays, the Vols make their fourth touchdown at the end of the third quarter. Arkansas came back however and got an interception and a touchdown, and is finally able to get an extra point. As the fourth quarter and the game come to an end, Tennessee gets its final field goal, making the ending score 34-19.
Tennessee has yet another victory for the University of Tennessee and UT fans. The Vols play the Oklahoma Sooners at Oklahoma Saturday September 13, at 8:00 p.m. on ESPN.
Leave a Comment