The city that never sleeps
The Journalism class takes a trip to Colombia University in New York City
More stories from Kiyah Moore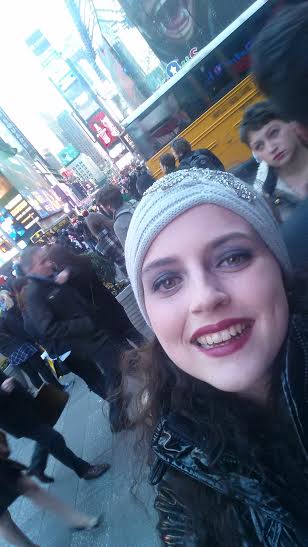 Tuesday, midday, checking out.
I snatch up my check out slip from my desk in Ms. Frazier's room–it's time to prepare for the single most exciting moment in my high school career. I feel the adrenaline rush through my body as I bend down to zip up my backpack and make my way out of the door I've waited to rush through for two whole months.
I inhaled deeply. I was about to go to New York with my Journalism family.
New York–a foreign place in my eyes, a place that is hundreds of miles away from my yard, my family, my El Camino, and my chickens. It's also the place where, in my imagination, all of the evils of the world are harbored in subways, street alleys, and dirty buses.
My anxiety was even greater due to the fact that I, a girl who goes down the interstate at neck breaking speeds on the back her father's motorcycle (without a backrest, mind you), was a shaking, scared, first time flyer.
Terrifying images of me doubled over in my airplane seat retching into a barf bag sent fearful chills down my spine. I then decided that it would be in my best interest to purchase some medication to prevent against a situation like that. So, I picked up some Waldram (Walgreen's version of Drammamine).
I nervously drove home, and fell into my bed checking, rechecking, and triple checking my long list of things I packed. I was desperately worried that I had looked over an important item on my list.
4: 30 p.m., brother arrives, time to leave.
A giant Texan-looking Ford comes to a screeching stop in my driveway. My heart drops. I kiss my mother and father and leave with my tiny leopard print suitcase.
5:30, at airport, spots other student, palms are sweaty.
This was really happening.
5:40, cries, packed aerosols.
My first airport conduct mistake. I said goodbye to my Big Sexy Hair and hello to a hair tie. Pondered until take off how I would style my hair for Broadway.
7:45, boards plane, having a panic attack.
My fellow classmates held my hand as I stepped into this strange contraption called airplane. I
seated myself near the back of the plane. It was comfortable and exciting, I won't lie.
7:50, take off, screaming and laughing…and crying.
I'd never experienced that sensation before. It was like riding a roller coaster in a good way? I busied myself smiling at our nice flight attendant and listening to my taped up Mp3 player.
Time unknown, lands in Charlotte, North Carolina.
The airport was huge and I almost got ran over by a tiny airport car. I saw a lady on a stretcher get driven to an ambulance on one. I got a little scared, but I was too distracted by all the bells and whistles this airport offered.
Back in the air.
This airplane was HUGE. This was much larger than the small plane we flew out of Mcghee Tyson in. Equipped with a first class curtain divider, crying babies, and a snappy flight attendant, this was the most high tech flying transportation vehicle. Take off was easier and the best part was….we got SPRITE.
Then, suddenly, we approached this mass of  light. At first, I couldn't tell what it was. It sort of looked like a bunch of Christmas lights scattered on the ground.
Then someone turned around and announced that it was our destination.
New York.
Sometime at the early hours of the morning, a speeding van, tired.
We were then dropped off at the Hampton near time square. We sleepily rolled our suitcases to the elevators and then crashed for the night.
8:30 a.m., downstairs, feeling dead.
Time to go to Columbia University to take journalism classes. The thing that I don't realize is that we have to take a subway to get there.
We approach a little stairwell leading into the ground. It was a block or so away from our hotel. We bought our "Metro Cards" (which I later learned was not only for the subway, but also for the city bus…) and boarded the loud, screeching, underground train.
"Boy, everyone must love each other in New York! Look how close together everyone is!" I thought to myself.
Just as this thought entered my head, I bumped into a lady holding a subway pole.
"Really?!" she said. Really. I inched away as best I could.
We finally arrived at the University of Columbia and met a bunch of other kids like us–weary and eager to learn.
Columbia University was an amazing experience for us. Personally, I learned more in my three days there than I have well, anywhere. We took up to three classes a day or more.
Later that evening…
It was finally time for the one thing I'd waited for forever…Broadway. We stood in the slicing, cold wind to see Matilda! the musical. When we got in and got seated, I was immediately dazzled by the way the stage was set up. There were huge blocks with letters in them that resembled Scrabble pieces.
The musical was amazing. Ms. Harris, Ms. Wallace, and Ms. Moore even chuckled.
Next Day
We finally got to see the Museum of Natural History where we immediately located all of the super necessary exhibits there that are shown in Night at the Museum. We got to see Dum Dum. Boy, did we see him.
A summary of the remaining days because they blended together.
We ate so much good food. We had a really nice Italian food one night with all sorts of different dishes. I finally got to try calamari. The Shake Shack was another culinary highlight to our trip. The all natural, juicy burgers were slathered in something called "Shack Sauce" that made them taste so delicious.
The city was beautiful. The lights were so bright. Time square was amazing.
We got to go shopping on our last day there, and, as I'd hoped I would, I splurged at H&M and Sephora.
A trip to New York wouldn't be complete without going to Macy's–which we did. There I beheld in my eyes a Gucci store. I stood there, knees shaking; I'd only ever dreamed of this moment.
As we strolled down the pavement, experiencing all the sights (busy), smells (sweet and stinky), and sounds (loud) of New York, I came to a realization that in this moment, everything was perfect. I was surrounded by my friends in an amazing city having so much fun.
I've seen a few places outside of the comfort of Tennessee, but never have I ever seen a city like New York.
Saturday, 5 am.
We rolled our bags to the bus, and sped through the city one last time
Saturday, 4 p.m.
We ran all different directions trying to find our parents in Knoxville. When I saw my father, I cried. I'm not ashamed. I cried. I'd missed the smell of trees and my family more than anything.
New York was an experience I'll never forget. I forged stronger bonds there nursing my foot wounds with my Journalism family more than I ever had anywhere else. It brought us closer together and taught us how to laugh. It taught us how to rely and trust each other.
But that smog though.
Leave a Comment