"Chappie"
A review of Neill Blomkamp'sn newest robot, action film.
More stories from Jordon Provost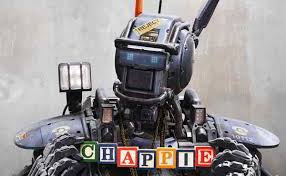 The movie Chappie is out in theaters right now and is making a positive impression for director Neill Blomkamp, a movie director from South Africa responsible for titles such as District 9, and Elysium. Both of these Blomkamp movies have similar traits, for instance, they both take place in the same type of setting. And not only this, but there are tons of giant robots. Blomkamp is the South African Michael Bay; except instead of explosions, it's robots, which are not much more mature, but a lot more fun to watch.
Chappie contains exceptional special effects and is a true treat for the eye.
The animation and character interaction with the CGI chappie are fluent and fluid.
Chappie is a movie about a computer engineer who longs to improve the robots he has created that are now being used by the police force in South Africa. The robots are a huge success and the crime rate is instantly lowered.
Without spoiling too much, Chappie is a movie about Scout #22, who is destined to be crushed. However, Deon, its creator, steals him for himself and uses the scout to test out his new AI software. The software, needless to say, was successful.
The story of Chappie allows the audience become emotionally attached to even characters who seems to be antagonists. This is an edge-of-the-seat, blood-boiling, tear-bringing movie that everyone should watch. However, be aware that, despite Chappie's innocence, the movie contains adult themes such as copious amounts of profanity, drug, alcohol, and tobacco references, sexual references and nudity. You could always avoid these using a parent's guide to the movie.
Hugh Jackman, Dev Patel, Yo-Landi Visser, "Ninja", and Jose Pablo Cantillo, all play major parts in the movie and all go really well together.
Hugh Jackman's performance was exceptionally great. He was extremely in with the character, and for a while during the movie, I didn't even recognize him.
Dev Patel matches the role of Deon exceptionally well, too. Again, he was in character and played the role perfectly.
And finally, Yo-Landi Visser. She's quite strange, and to be honest, I've never even heard of this person before I watched this movie. She was, however, probably the greatest act in the movie. Her strange looks and personality make it hard to read someone like her, and makes it hard to even tell if her acting was good or not; but I liked the role she played, and how she went about doing it. This is what makes her my favorite of the actors and actresses.
Chappie was, in the end, a great movie and a definite 4 out of 5 stars for me. However, I'm kind of a robot person, so maybe it just hit me in a weak stop. But who knows, this movie may even turn you into a big robot person. It sure could be a big hit with anyone from your average joe to your hard-core sci-fi fanatic, which is what makes chappie a movie worth reviewing.
Sources

http://www.foxnews.com/entertainment/2015/03/08/chappie-number-one-but-off-to-soft-start/
http://collider.com/chappie-trailer/
http://revesonline.com/chappie-una-enredosa-historia-de-androides/
View Comments (1)