Chick fil Love
Local fast food restaurant spreads kindness in the ice storm of 2015
More stories from Kiyah Moore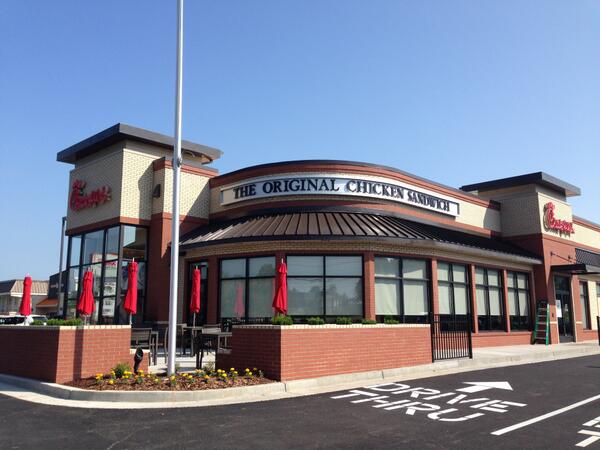 For the past two weeks, the sky has been punishing (or rewarding for some) the citizens of Loudon County and East Tennessee as a whole. Our valley is no stranger to the stray snow shower or flurry that makes an appearance mid February or January, but the snow and ice that blanketed the city at the close of February was nothing less than record breaking–even compared to the blizzard of the 90's that dropped feet of snow in the area. The ice that fell was probably the hardest blow from Old Man Winter, as power lines, trees, and roads were covered in heavy, slick ice which created perfect conditions for all different kinds of turmoil.
As the lucky students of Loudon County sat with their faces pressed to their widows, filled with excitement for the winter weather fun that lay ahead, there were certain faces staring out the window as they gathered their rubber boots, coveralls, and heavily packed lunches.
These faces were those of the Lenoir City Utility Department and the Loudon County Highway Department. These two departments are vital to not only the upkeep of our community, but responding in emergency situations. LCUB provides electricity to thousands in Lenoir City and when the ice storm wreaked its havoc, countless power lines snapped or were pulled down either by the weight of the ice or by a fallen trees that were overwhelmed with the hefty amounts of ice that glazed their branches.
And Naturally, when there are fallen trees and  snow and ice covered roads, someone must answer to the calls of the citizens of Loudon County.
Clifford W. Moore Sr. (my father) was one of the brave LCHD workers who answered and delivered when the  disaster unfolded.
"They're all treated the same," says Moore, "whether it's a storm, snow, or tornado–it's all treated seriously." Moore says that in all of his ten years of employment, this is not the worst weather situation he's had to work in.
The LCHD is entrusted with clearing the roads from any debris such as fallen trees during disasters–or even day to day mishaps. They rev up their chainsaws and go to work on the trees sometimes working hours in a single area to cut through even the most extreme tangled mess of branches and bark. Along with that, they also must plow, scrape, and salt the roads during winter weather to keep them safe for travel and most importantly for ambulances, policemen, and even LCUB.
"This is probably the worst ice storm since I've been in office," said Loudon County road commissioner Eddie Simpson.
" [We] called out our entire crew to get everything prepped…at 10 a.m. the trees got bad [there was] between 6 or 700 trees down," Simpson said about the road conditions. But he praised his faithful crew saying, " The guys worked well and they worked hard–they never whimpered."
LCUB was on the other end of the stick of disaster, as the total number of people without power escalated to record breaking totals. LCUB didn't give us a statement on the disaster.
Together these departments stayed away from their homes, braving the winter weather, for up to 48-50 hours per worker to work swiftly to restore the roads and power to the city. Despite the fact that many had prepped to be away from home for an extended period of time and packed standard lunch foods such as sandwiches, canned soups, etc., hot meals were scarce.
So at some point during the icemaggedon, a generous soul at our local Chick-fil-a had an amazing idea.
"Tuesday morning there were a lot of employees who couldn't get to work,"said LC Chick-fil-a manager Joe Niño
That morning, Niño walked into a restaurant full of prepared food, but no customers due to the establishment being closed for the safety of the commuting workers, and then suddenly, he was struck with an idea: take the food to local workers out in the storm.
"We're just trying to do for the community," Niño says. He teamed up with LC's Chick-fil-a owner Justin Young, owner's wife Audrey, and Jason Young to deliver and make the food.
The LCUB workers laboring to restore the power were delivered their warm meals first, getting meals delivered on their site of work.
The LCHD received theirs around noon after I mentioned the LCHD workers on a Facebook post tagged back to Chick-fil-a owner's wife Audrey Young and commented,
"I think it's great they delivered food to LCUB. However, I think it would be amazing if they could remember the Loudon County Highway Department as well. Some of those brave men have been working ever since Monday morning up until now cutting trees off of cars, power lines, and roads. They've been pushing snow and salting the roads for the safety of everyone. They're the hidden heros of this ice storm!"
As the daughter of a highway department worker, I've seen all of the hard work that these men do. I've packed my dad countless cold bologna and cheese sandwiches, trying to make them as appetizing as a bologna and cheese sandwich can be because I know from experience that he might not be home for days on days. So when Young replied to me asking how she could get it to them, I was overjoyed because I knew my dad and his coworkers could have something warm to eat.
"Chick Fil A was very responsive to all emergency  workers. They did for us…I'm glad they have a heart for the people working in the storm," Simpson said.

With their stomachs full and their spirits replenished, the LCHD crew went out to brave the closing fury of the ice storm and restore the roads to the safest possible conditions. And a lesson can be learned from all of this: think of your fellow man and recognize those who deliver hard work in dangerous circumstances.
Leave a Comment