A Delicious Story
Exploring our local pizza restaurants
More stories from Matt Hamilton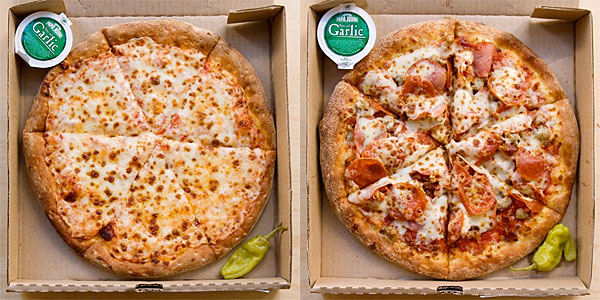 The first pizzeria in North America was opened in 1905 by Gennaro Lombardi in New York City. So pizza has been around for a long time. People like to personalize their pizza and that is perfectly normal. Every business has their own personal twist on pizza.
Papa Johns: This is only a delivery or carry out. Along with pizza, you can get wings, cheese sticks, chicken poppers, chocolate chip cookie, double chocolate brownies, and a cinnapie. Their pizza is thin crust. You can get any kind of pizza pretty much, there is even one called the "bacon cheeseburger". Personally, I just like getting the pepperoni pizza. On the pizza, they put tons of pepperoni–they are not shy with them. Their pizza is one of my favorites because it is like tasting a little bit of heaven with each bite, and then you get to the crust and it's even better. Also, I like how they put a little garlic sauce and bell pepper in the box with the pizza, I think that is pretty clever.
Little Caesars: Little Caesars is a take out only. They are famous for their "Hot-n-ready" for 5 dollars. Their pizza is one of the best pizzas I have had. It is thin crust, but not extremely thin. They put an equal amount of pepperonis on their pizza. They have wings, bread, with sauce, for an additional price, but they just added a new pizza to the menu: The Pretzel Pizza. This pizza is super tasty. Instead of pizza sauce, they use nacho cheese which is surprisingly really good. They also put salt on the crust, which is a surprising twist and puts a better taste on the crust.
Pizza Hut: The Pizza Hut in Lenoir City is either take out or delivery. You can get any kind of pizza you want: thin crust, thick crust, square pizza, or the original circle pizza. My favorite is the thick crust square pizza. Taking a bite into their pizza is the best thing you'll ever do. It is one of my favorite pizza places. Along with pizza, you can also order wings, bread, and a dessert.
Gondolier: When you walk into Gondolier you walk past the place where you sit and wait for a seat. When your seat comes available the hostess takes you to your seat and goes to get breadsticks and marinara sauce. One reason I love going to Gondolier is because of their bread; it is so fluffy and absolutely delicious. Their pizza is greasy, but good. It is thin crust pizza. Personally I have had better pizza than at Gondolier, but yes it is good. There is so many choices at Gondolier other than pizza. My experience was good and I will go back!
Brixx: Walking into Brixx, you sort of need a flashlight. The restaurant is very dark and dim. The service was not the best; the waiter was very distracted and unorganized. The pizza was so thin and very crunchy. The bread was not normal bread, but instead it was like flat bread but twisted. Overall my experience was not the best, but I would like to go again and try to get better service.
Mellow Mushroom: The restaurant was thought up by college students in the 70's. When you walk in the restaurant it is like you step into a trippy time machine. It is designed like you walk in and the bar is on the left and the on the right is the eating area. On the sides of the restaurants are all booths. Variation of two-seaters to eight to ten-seaters. In the middle of the of the restaurants were tables varying from four-seaters to six to eight-seaters. The whole place was wide and open. The waitress and waiters did not have a dress code or a uniform, just in normal clothes. The appearance of their pizza is amazing, but there were puddles of grease on the pizza.
"Taking a bite of pizza is like taking a bite of heaven with angels dancing around on my tastebuds," said Autumn Young (11).
There were TV's everywhere and laughter coming from every corner of the place. The coolest thing that Autumn and I experienced was watching the pizza boys spin the pizza and throw it up in the air. Our overall experience was amazing and the pizza was super good.
Leave a Comment