Senior Night
More stories from Autumn Young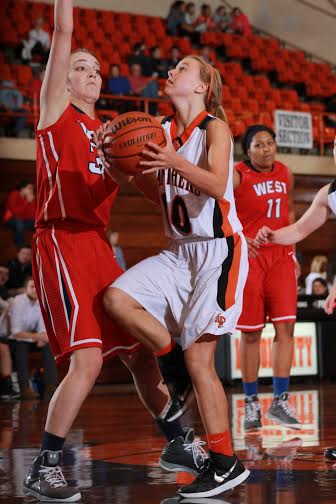 Tuesday night, the Panthers played their last home district game against West. The girls played their game first. The Panthers were playing really hard, especially defensively.  Our players were going after every ball and forced several turnovers. The Rebels could not execute because of our defense. As halftime approached, the Rebels had scored less than 20 points and the Panthers were winning by more than 10 points.  When the third quarter began, Coach Muncy took the starters out and put in the other girls.  Even though they usually only play Junior Varsity, the girls came on ready to play.  These freshman were pushing the other team as hard as the starting players.  The Panthers came out on top over the West Rebels.
Between the games, Lenoir City had their senior night.  It included swimming, basketball, and cheerleading.  For swimming, Robby Fuller and Ben Haney were the seniors recognized.  For cheerleading, Ansley McConkey and Sydney Simpson were recognized.  Since there were no girl's basketball seniors, it went straight to boy's basketball.  Dylan Brewster, Garrett Cheatham, Trey Courtney, Tanner Moore, and Rashawn Tallent were the basketball seniors.  Each coach had pre-written about each player.  All were greeted with flowers that some gave to their mothers.  The announcer said each person's name, what college they plan to attend, and what they intend to do for a career.
After the seniors were announced, it was time for the boy's game.  They knew they had a tough opponent with the Rebel boy's team.  Three of the seniors started the game, and they played with everything they had.  The Panthers raced up and down the court trying to get the ball in.  The whole game, the score was tight, usually a two-point game.  At the end of the first half, the Panthers were winning by five with a buzzer beater three-pointer by Clay Campbell.  They started the third quarter with intensity, but so did the Rebels.  Both teams came ready to play.  Unfortunately, the referees had some bad calls, running up the score with foul shots.  The Panthers kept pushing, but by the fourth quarter, the score was too far to reach.  The Panthers fell to the West Rebels.
Leave a Comment