Funny Girl Review
More stories from Kiyah Moore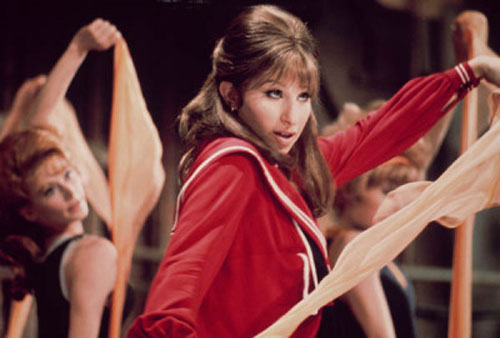 Let's go back to a night that wasn't so long ago. A crisp October evening, a crowd cheering on their favorite football team, the smell of grilled goods in the air–a night I wasn't a part of.
No. Instead of attending my school's last football game of the season (and my Junior year), I decided that I would stay in, sport some lounge pants, and turn on the best channel available to satellite dish: Turner Classic Movies.
That whole night TCM was brimming with forgotten classics. Silent films, those famous films that are incessantly referenced but rarely remembered, and those pieces that completely change our lives.
This was the night I was introduced to my favorite musical Funny Girl starring the talented goddess Barbra Streisand. I was familiar with Streisand's acting, but never her singing. My mindset remained in her Meet the Fockers character when my thoughts traveled to her. But before my eyes, the Rosalyn Focker I had always been acquainted with evolved into a beautiful, sincere, soulful voice singing songs of love and comedy.
Funny Girl was filmed in 1968 by William Wyler and was one of Barbra Streisand's breakout films. The film is centered around the young Ziegfeld Folly Fanny Brice and her rocky marriage to professional gambler Nicky Arnstein.
Exposition is established with the young Brice preparing herself for her first Ziegfeld audition. Brice ultimately receives criticism for her appearance not equating to that of the fabled beauty of the Follies. This scene is carried through one of the most comedic songs of the movie, "If a Girl Isn't Pretty," which notes the idea that Fanny Brice, an actual Ziegfeld Folly, was an "ugly duckling" in the show business who ultimately transforms into something glamorous.
The movie possesses some of my favorite songs that have ever been sung in a musical, i.e. "Sadie, Sadie"–the song Brice sings post marriage to her husband Nickie Arnstein, "You are Woman I Am Man", and "Funny Girl".
I felt that Barbra Streisand was perfect for the role of Fanny Brice. She in real life possesses some of the comedic charm that Brice had. Not to mention that Streisand was absolutely beautiful and fabulous at this point in her life. Omar Sharif was good, however, I felt as if he loosely fit the role. He did possess that slick gambler feel, but he could be awkward against the smooth acting of Streisand.
Overall, I felt as if the whole movie was beautifully done, and at some moments such as "His Love Makes Me Beautiful", I felt as if I was close enough to feel the sweat off of Florenz Ziegfeld's brow when Brice proceeds to break the serious gracefulness of the song by shoving a pillow up her bridal gown during her first lead role.
The movie's ending was sad and unexpected to me, but offered a sort of rebuilding life charm. It was really inspiring and emotional actually.
Would I recommend this movie?  Yes. It's a classic and will be permanently stuck in your head. This movie will make you laugh, cry, and dream. This is Streisand at her best.
Leave a Comment