Donating Life
More stories from Matt Hamilton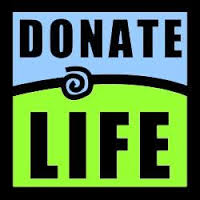 To donate blood is like giving life to one or more people.
Melanie Crook, RN, was the one who thought the blood drive would be beneficial for Dominique.
"With Dominique being one of my former students, I felt compelled to try and help in any way that I could. In helping Dominique, I also wanted to do something that would benefit others that may also be experiencing an unexpected health crisis. I felt that a blood drive would serve the purpose of helping Dominique and her family as well as others in our community. It wasn't just an organ donor that saved Dominique's life, but blood donors as well," stated Crook
In one of Dominique's surgeries she lost an astonishing 40 units of blood. It takes 10 donors to get one unit, or pint, of blood. Meaning for Dominique it would take 400 blood donations to get 40 units of blood. The blood drive being held at Lenoir City High School, the Medic bus will be parked in the back parking lot in front of the football stadium, is a replacement blood drive for Dominique. The process of a replacement donation is when the donor gives away his/her credit to Dominique. Although this blood drive is for Dominique, you still have to state that you want the donation credit to go to Dominique.
Before donation the medics will ask you a few personal questions that should be answered honestly. Some questions might include: their general overall health, immunization status, last dental visit, medications (prescribed and over-the-counter), Sexually Transmitted Infections, tattoos, acupuncture, body piercing, travel outside the US and Canada, and surgical procedures. All information will be confidential under the HIPAA Privacy Law.
Announcements have been placed in the Loudon County News Herald and on the Loudon County Community Channel.  The announcement has also been submitted for placement on the LCHS website.  Emails have been sent to all administration, faculty, and staff of the LC School System.  Medic will be announcing the drive through their usual publications.  Flyers will be handed out to junior and senior homerooms.  An information table will be set up during lunches the week of the blood drive.  Posters and flyers will be located throughout the school.  Flyers will be placed at local businesses.  Numerous friends and family members of Dominique are also helping to spread the word over social media.  And last but not least, the school newspaper will be announcing the drive as well. I encourage all students and their family members who are eligible to give to please do so. Medic Regional Blood Center will be incharge of the blood drive, and if you donate you will get a free t-shirt and a snack.
Fun Facts about blood needs:
Every two seconds someone in the U.S. needs blood.
More than 41,000 blood donations are needed every day.
A total of 30 million blood components are transfused each year in the U.S.
The average red blood cell transfusion is approximately 3 pints.
The blood type most often requested by hospitals is Type O.
The blood used in an emergency is already on the shelves before the event occurs.
Sickle cell disease affects more than 70,000 people in the U.S. About 1,000 babies are born with the disease each year. Sickle cell patients can require frequent blood transfusions throughout their lives.
More than 1.6 million people were diagnosed with cancer last year. Many of them will need blood, sometimes daily, during their chemotherapy treatment.
A single car accident victim can require as many as 100 pints of blood.
Facts about the donors
The number one reason donors say they give blood is because they "want to help others."
Two most common reasons cited by people who don't give blood are: "Never thought about it" and "I don't like needles."
One donation can help save the lives of up to three people.
If you began donating blood at age 17 and donated every 56 days until you reached 76, you would have donated 48 gallons of blood, potentially helping save more than 1,000 lives!
Half of Red Cross donors male, and half are female.
The American Red Cross accepts blood donations only from volunteer donors.
Among Red Cross donors in a given year, 19 percent donate occasionally, 31 percent are first-time donors, and 50 percent are regular, loyal donors.
Only 7 percent of people in the U.S. have O-negative blood type. O-negative blood type donors are universal donors as their blood can be given to people of all blood types.
Type O-negative blood is needed in emergencies before the patient's blood type is known and with newborns who need blood.
Leave a Comment