Boujee Bathroom In LCHS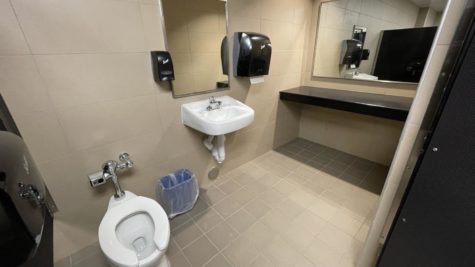 Updates people! Updates! As the student body has been growing, so has the school itself. Along with new art walls, decals on the front doors, and the lunchroom renovation, we got another addition. As one of many of the students who happen to need a bathroom throughout their day, I am excited. Although we still have our multiple other bathrooms, this one is like no other.
"I really like how this bathroom feels much more open," says Carly Wrobleski.
Since the renovations to this bathroom lasted just about the whole school year, the students couldn't be more prepared for this update.
"It's nice to have a bathroom right near classrooms again," Wrobleski says.
Out with the broken stall doors and faulty sink faucets, and in with the open concept entrance, many (working) sinks, and very roomy stalls–some with sinks and mirrors inside of them!
"All of the new stuff in the bathroom definitely makes it feel nicer and newer," says Wrobleski.
All of LCHS is very excited with this update, and excited to see all of the new updates happening in the school.