Tame Impala – A Music Project Concert That Sets The Bar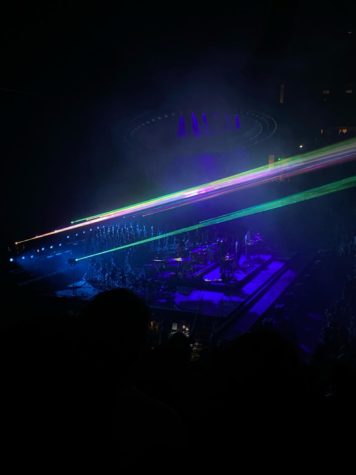 Lights flashed across the Bridgestone Arena, lighting up the faces of the ecstatic audience while the bass from the psychedelic rock band echoed through the stadium.
Kevin Parker led moments like these during his concerts of his musical project, Tame Impala. From his debut album in 2010, innerspeaker, his music style has made an impact on the music industry. After his release of his newest album in 2020, The Slow Rush, Parker wasn't able to tour the album due to Covid. But his 2021-2022 Slow Rush tour made up for the break in performances. Senior, Katy Roel attended the Nashville show and can say it was a memorable night for her.
"Being able to experience the full energy of the songs, specifically Elephant and Let It Happen was special. It was different to most concerts I've ever been to and easily the most memorable," Roel said.
Sophomore, SaraJane also attended the Nashville show March 23rd.
"Since I've never been to a concert before I really felt like I was able to get the full experience of a concert although we weren't in the pit," Weber said.
During multiple points during the concert, confetti shot from several canons and fell across the stadium. Along with the confetti, the concert had several light systems including a circular lighting ring that floated above the performers. The band played top hits from their past albums like Lonerism and Currents. Specifically rocking out to their most popular songs like Let It Happen, Borderline and The Less I Know The Better.
As live music becomes more and more available, definitely put Tame Impala on the list, you won't be disappointed.