Lenoir City High School Welcomes Pete DeBusk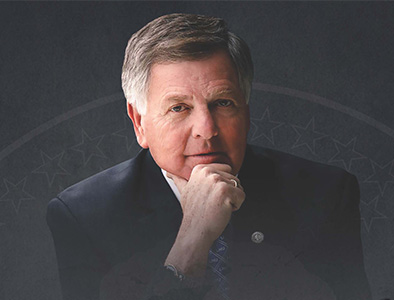 Beginning in 1973, businessman Pete DeBusk launched what would one day garner him the largest home in Knox County, Tennessee, with the first patented orthopedic boot. Said boots are used today in cases of broken bones within one's ankle or foot, as well as offering protection for similar injuries.
DeBusk invented this upon noticing that many plaster casts of the time period were far from adequate, often withering away before a patient had the time to heal properly. This development led to DeBusk developing DeRoyal: a manufacturer that develops and improves medical supplies.
Nowadays, the businessman works closely with Lincoln Memorial University, where he is both an alumnus and chairman. LMU offers majors in veterinary medicine, computer science, art, and much more.
On Tuesday, March 8, 2022, Lenoir City High School welcomed Pete Debusk, Dean Ryan Overton, and Director of Admissions Lindsay Haywood to speak with engineering and mechatronics students on LMU's programs.
The trio presented their programs, campus life, and a few personal anecdotes from DeBusk. Given the immense amount of success DeBusk has seen–in both DeRoyal and LMU–he has a plethora of business advice to share with today's youth.
"You've got to do what you want to do, but you've got to make a living," DeBusk said.
DeBusk's knowledge on success, business, and education allowed him to answer questions of all varieties from engineering-focused students at LCHS. Kevin Smith and Stephen Code–teachers at LCHS–encouraged questions from their students, even asking a few themselves.
Lenoir City High School thanks Pete Debusk, Lindsay Haywood, and Ryan Overton for their time and information on the programs Lincoln Memorial University offers.