Secret Talents All Around
One of the many exciting events of the second semester is the student talent show. In this show, people sing, dance, play an instrument, or show off some other talent they might have. Eden Wright (11) sang the song "Jesus At the Center" by Israel & New Breed and Israel Houghton.
A good performance doesn't just develop overnight. The performer needs to practice and prepare for their minutes on stage. Wright explains how she got ready for her performance.
"I studied the song and other music to prepare. The hardest thing was deciding what song to do. I was originally going to do a song named 'Tremble', but it was only a few chords versus something that was a little more interesting," Wright said.
Not only does a performance take lots of preparation, but it also takes quite a bit of bravery. Performing in front of a crowd, especially your peers, can be terrifying. Wright explains her outlook on the fear of performing.
"It's scary, but when you do something you feel strongly about and are dedicated [to] trying to make a difference, there is a larger amount of contentment than fear," Wright said.
Not only did her positive outlook influence her performance but so did the wise words of someone close to her.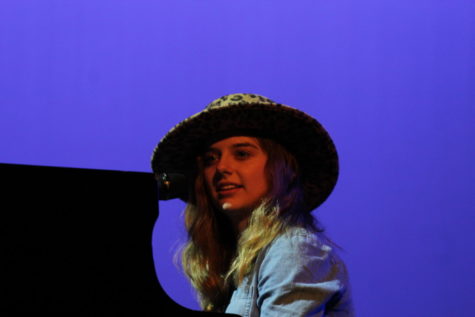 "Before the show, my dad had given me one word that he said would be the most important: breathe," Wright said.
Although this might have been the first time most students have seen Wright perform, she is no stranger to performing. Wright has recently led music at her church, and her love for this is what led to her eagerness to perform in the talent show.
"I personally enjoy playing and performing music. [I thought] it would be good to bring attention to God for a moment at the high school," Wright said.
Through her passion for singing, some good advice, and a positive mindset, Wright was able to perform in front of all of her peers, and she even made it look easy.