A Nail Biter: Super Bowl LVI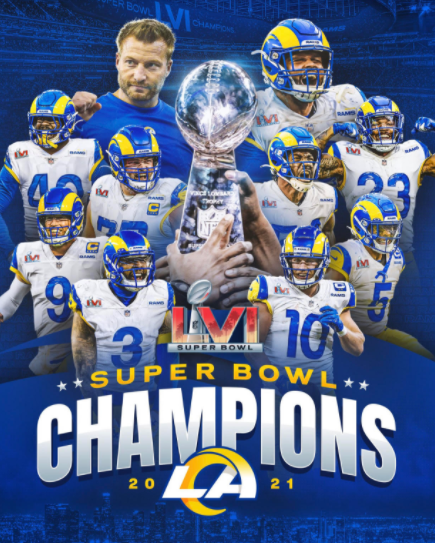 The Los Angeles Rams defeated the Cincinnati Bengals, becoming the 2022 World Champions at Super Bowl LVI in Los Angeles. Both teams fought hard against each other and put on a close game. If you couldn't watch Super Bowl LVI, here is what you missed:
In the first quarter of Super Bowl LVI, Both teams did not score many points. Matthew Stafford threw a 17-yard touchdown to Odell Beckham Jr. Ja'Marr Chase had an insane catch, but was not able to capitalize it with a touchdown for the Bengals. The Bengals managed to kick a field goal, which gave the Rams a 7-3 lead leaving the first quarter.
Matthew Stafford threw two touchdowns in the second quarter to Cooper Kupp and Odell Beckham Jr. OBJ shortly after suffered a knee injury and was unable to compete for the rest of the game. The Bengals scored a touchdown and a field goal kicked by Evan McPherson.
Coming out after halftime with a 13-10 lead, Joe Burrow threw a 75-yard touchdown to Tee Higgins. From the pressure of the Bengals's defense, Matthew Stafford threw an interception during the Ram's opening drive. The Rams were successful in kicking a field goal during the third quarter.
With the game almost coming to an end in the fourth quarter, the Rams started their comeback journey. After all of the trials and tribulations of flags, the Rams managed to score a touchdown in their final drive. The Bengals had one last chance to win with little time, left but Aaron Donald sacked Joe Burrow to finish off the game.
In the end, the Rams beat the Bengals 23-20. Many veterans, like Matthew Stafford, Aaron Donald, and Andrew Whitworth were able to capture their first Super Bowl victory. Cooper Kupp was named Super Bowl MVP with 92 receiving yards and two touchdowns. The Rams celebrated and received their Lombardi trophy on the field's stage after the game.