Is Big Bird's Vaccination Propaganda?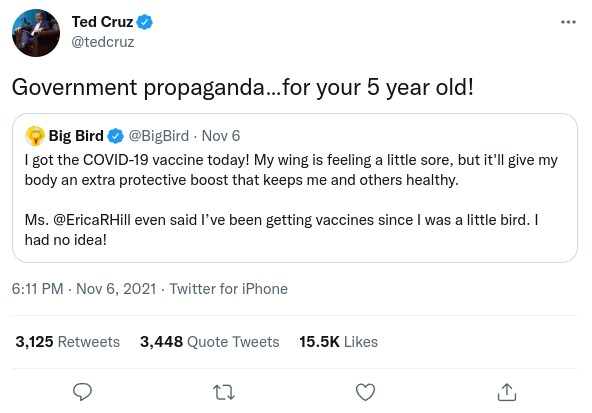 On November 6, 2021, Big Bird from Sesame Street got vaccinated for COVID-19. After the FDA's approval of the Pfizer shot for children from ages five to eleven, Sesame Workshop made the decision to announce the six-year-old's vaccination.
"I got the COVID-19 vaccine today! My wing is feeling a little sore, but it'll give my body an extra protective boost that keeps me and others healthy," the character said.
Many followers replied with congratulations or shared news of their own vaccinations. Parents made their support known with appreciative comments and photos of their children who had been immunized. Even the president advocated for Big Bird's accomplishment.
"Good on ya, Big Bird. Getting vaccinated is the best way to keep your whole neighborhood safe," President Biden tweeted.
Despite the amount of support for this announcement, not everybody was glad to hear the news. Several people spoke of their distaste for the character getting the shot. The president's reply may have sparked this backlash, as critics are labeling the tweet as propaganda. One such critic was Ted Cruz, a Texan senator.
"Government propaganda…for your 5 year old," Cruz said.
Some have dubbed Big Bird's report "evil", or "indoctrination". Opposers argue that it is wrong of a widely-appreciated character in children's lives to influence their opinions on the vaccine.
Although many people disagree with the decision to vaccinate the yellow bird for COVID, this isn't his first time advertising for public health. In 1972, an episode of Sesame Street featured Big Bird getting vaccinated for the measles. In the episode, he took part in a "Don't wait, vaccinate" campaign; he saw the sign and got in line for the shot right away.
"Hey, I know what I'm going to do. Right away! I wanna get in line. I wanna get a measles shot!" Big Bird said.
The character promoted vaccination in 1972, and doing the same in 2021 is no different. Some support this way of spreading information about the shot, and some oppose it — the fact remains that making announcements with popular characters is a good way to let people know about the vaccine's approval.
If children were afraid of the shot, seeing their favorite character go through the same experience might help them feel better about it. Regardless of whether or not the statement was meant as propaganda, it encouraged kids to get vaccinated against the disease, keeping them and others safe.