Keeping Up With the Barkers.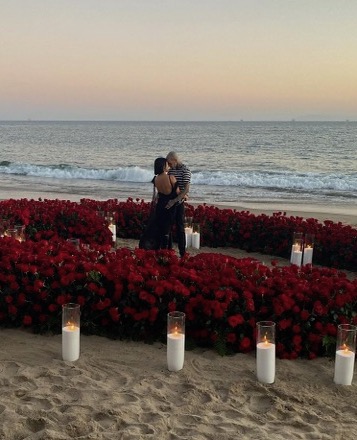 The infamous and oldest Kardashian sister, Kourtney, and her rockstar boyfriend, Travis Barker, are recently engaged. Barker proposed on Sunday, October 17, 2021, on a beach in Montecito, California. They were surrounded by candles and roses in the shape of a heart. The drummer chose a 12 karat oval-shaped ring, estimated to cost over 1 million dollars.
Tarvis and Kourtney have been supposedly been dating for about a year according to each other's Instagram.
"I think they are an odd couple. Her life before was more mom-like and now its more emo-goth. Its like he is pushing her out of her comfort zone in a good way," Ava Lawhorn (9) said.
Kourtney has three children, Mason, Penelope, and Regin, all from her previous marriage to Scott Disick. Travis was also previously married first to Melissa Kennedy for one year, then to Shanna Moakler for four years. Travis has two children with Kennedy, Alabama Barker and Landon Barker.
Both families have spent time with each other and become comfortable with each other. Landon Barker shared a video on Tik Tok of Kourtney, Alabama, and himself all dancing to a trending sound. The caption read, "Legendary tok right here". Many others showed their support for the couple by commenting on both Travis and Kourtney's Instagram posts.
Everyone seems to be happy for the couple, all except for Scott Disick, who has supposedly been loosing his cool over the engagement.
"[Scott Disick] is not doing too good. I think its hard to see her move on," Lawhorn said.
Now people want to know what the wedding will look like, considering the couple's grunge style. Fans have also been wondering about the two having children together. For this couple, only time will tell.