What you missed at the 2021 MTV's Video Music Awards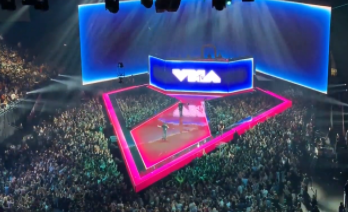 The 2021 MTV VMAs was an eventful award show. There were performances that shut the house down. There were many deserving artists that were rewarded for their hard work. There were very memorable speeches. To say the least, The 2021 VMAs was yet another historic event in the music industry.
Every year at the VMAs, artists must deliver amazing performances to keep up with the previous years. Legendary performances like Britney Spears performing with a snake, Janet Jackson's tribute to Michael Jackson, and Lady Gaga's 2009 performance are the standard for a VMA performance. Let's just say that this year's artists kept up with these extreme expectations.
The night started out with Justin Bieber and Olivia Rodrigo performing their hit songs Ghost and Good 4 U. Everybody is buzzing about how Rodrigo came down on a disco ball at the beginning and punched the camera at the end of her song because nobody has seen that before.
Another stand-out performance was Kacey Musgraves and her emotional debut at the VMAs. Musgraves performed her song Star-Crossed, a heartfelt song about her recent divorce.
Alicia Keys showed up and showed out with a chilling performance of Empire State of Mind, an ironic happening as this year's VMAs took place in New York.
Doja Cat won two VMAs for Best Collaboration and Art Direction.
Olivia Rodrigo won three VMAs for New Artist, Push Performance, and Song of The Year.
BTS went home with the best K-Pop song with their song Butter.
Justin Bieber won one of the biggest awards of the night, Artist of the Year.
Many more artists were rewarded that night, meaning memorable acceptance speeches for audience members to hear.
Travis Scott won Best Hip Hop Video and said a heart-melting message thanking his three-year-old daughter, Stormi.
"New York! I first want to thank God, my mom, Stormi," Scott said.
Billie Eilish used her acceptance speech for women empowerment. Eilish won Video for Good and talked about how we need to protect women.
"We need to protect our young women at all costs. We also need to remember that we all have power. And we have to remember not to abuse it," Eilish said.
The 2021 VMA's was standout out of all of the award shows this year. It had epic performances, deserving winners, and just memorable moments. The MTV Video Music Awards will for sure go down in the books!