EOCs coming up
Well, LCHS, it's official– our end of course tests are coming up pretty soon. The end of course tests, also known as the EOCs, already make us nervous in a normal year.
This year, however, isn't even normal. We've been in school for basically half of the time that we normally are, and no matter what you prefer when it comes to being in school or on the hybrid schedule, I think we can all agree that being on a Google Meet just isn't the same as being in-person. Emma Clift (10) explains what EOCs she has to do at the end of April.
"I have a geometry and a chemistry EOC. I feel pretty confident about the geometry one since I understand it and I'm good at math. Chemistry I think I'll do okay on. Science isn't really my strong suit, but I've learned a lot in chem that I didn't know," Clift says.
Clift feels pretty good about how the EOCs will go for her, but she thinks she might've done better if this year hadn't been so unusual.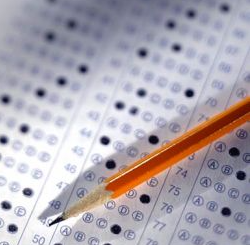 "When we were all there everyday we got more hands on learning time with the teacher, and I just feel like hybrid, even though it is still a day we get to learn the material, doesn't sink in as well," Clift says.
Clift isn't the only one taking an EOC, though. Most students at the school are, so for more perspective, Emma Brooks (10) explains how she feels about the EOCs coming up.
"[The EOC I'm taking is] english. I feel pretty prepared because my teacher has really strived to help us feel ready," Brooks says.
Unlike Clift, Brooks thinks that the hybrid schedule doesn't really change how she feels about her EOCs.
"The teachers have been trying really hard to get EOC practice in, no matter if we are in school those days or online," Brooks explains.
Sure, this year isn't the easiest ever, and we've had plenty of things to worry about, including getting quarantined, getting Covid, and schoolwork. Now we have something else to worry about: the EOCs.