Semester Blood Drive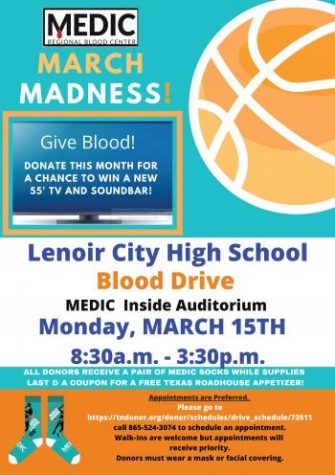 Each semester, Medic Regional Blood comes to Lenoir City High for a day to provide us with the opportunity to give blood to those in need. Many have donated blood several times while for some, this is their first.
"I'm excited but a little nervous for the needle," junior Lilly Borders said.
The first time donating is always nerve wracking. Some have personal fears of the needle or specifics in the process while others are worried something will go wrong. The truth of it is, the workers are well trained and will work with you. Thousands of people have donated with this company and with other countries and they've had a positive experience as well. Of course, if you are severely uncomfortable, it's ok to say no and not do it! Be sure to listen to yourself because while it's completely ok to say no, sometimes you can push through the discomfort to help others.
"I've always wanted to sign up and this was just the first time something hadn't come up." Borders said.
The non profit organization encourages all who are able to help others, this year more than ever. With COVID-19, more hospitals are in critical need of donations. This past year, the number of donors have decreased while the need of blood has risen. Medic specifically asks for any O+ or O- donors in particular since they are more used than other types of blood. But even so, all blood types are needed and welcome!
"I'm looking forward to donating blood for the first time," Borders says.
Being part of something bigger than yourself and donating to a good cause can bring more benefits than you may know. Although we don't know the personal story of the blood after that day, we can only know it would hopefully help someone who would need that amount more than we would. If you miss this semester's opportunity, the Medic Blood center in Knoxville, TN is always a good place to go!