Vols to the Top
The Volunteers collect their 7th consecutive win! The Vols have had an incredible start to their 2020-2021 season with the help of freshman, Jaden Springer.
Jaden Tyree Springer is 6'4 –250 pound Tennessee basketball player from Charlotte, North Carolina. Springer's father, along with his 2 older brothers, played college basketball. Having said, Springer has been around basketball since a young age.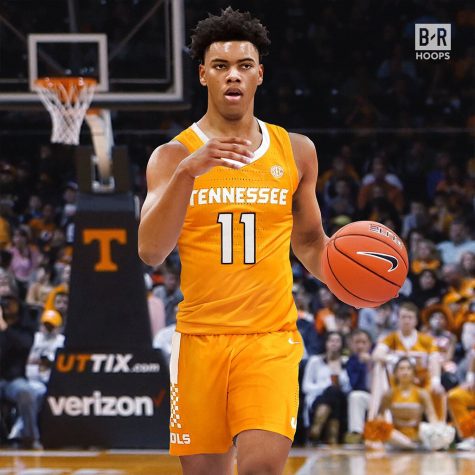 Although Jaden Springer lived in North Carolina, his junior and senior year he attended IMG Academy in Bradenton, Florida. At IMG, Springer averaged 17.4 points, 5.5 rebounds and 5.1 assists per game while shooting 52 percent from the field and 81 percent from the free-throw line as a senior in 2019-20.
It was now time for college and Jaden had many incredible opportunities. Springer had offers from Tennessee, North Carolina, Memphis, Michigan, and Florida. As a shooting guard, Springer was rated as a top-20 prospect nationally so this really caught Tennessee's head coach [Rick Barnes] eye and knew Jaden could have a big role for the Vols.
After lots of thought, Springer signed to the University of Tennessee. Springer picked up his first weekly honor when he was named the SEC's Freshman of the Week.
At the University of Tennessee, Springer has helped the Vols gain what little success they have already reached. As the season continues, Vol fans hope to continue seeing Springer help the team and grow as a player.