The MARVELous New Additions to Disney+
Warning: Spoilers for Avengers: Infinity War and Avengers: Endgame ahead. But, if you haven't seen those movies by now, I suggest you do that, and then continue reading.
After the gargantuan, action-packed finale that was Avengers: Endgame, most of us weren't sure if we would ever have a Marvel superhero movie again. However, contrary to popular belief, Endgame was not the end! Some of the Marvel Cinematic Universe's (MCU) Phase 4 productions are beginning their initial releases this year, and Marvel's partnership with the streaming service Disney+ is providing us with a multitude of new shows and movies, from re-visited old stories with our favorite superheros to new characters and storylines. While Phase 4 will last until 2023, these are a few of the planned releases for 2021.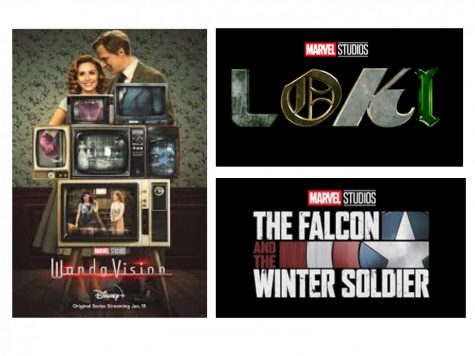 WandaVision (series)
Our favorite superhero couple are back, and this time, in the form of television! Gravitating away from the blockbuster movies, the new limited series WandaVision explores an alternate reality in the imagination of Wanda, aka The Scarlet Witch. Following the events of Avengers: Infinity War (i.e. Vision's death), Wanda grapples with the loss of Vision, and imagines their life together through multiple decades, starting in the 1950s, with an ode to I Love Lucy.
WandaVision stars Elizabeth Olsen and Paul Bettany, and premieres January 15th, 2021, on Disney+.
The Falcon and The Winter Soldier (series)
Endgame seemingly ended the storyline for Captain America, leaving The Falcon to take his place. Sam Wilson (The Falcon) and Bucky Barnes (The Winter Soldier) must team-up in a worldwide adventure that puts their abilities to the test as they fight the anarchist group "The Flag-Smashers."
The Falcon and The Winter Soldier stars Anthony Mackie, Sebastian Stan, and Daniel Brühl, and premieres March 19th, 2021, on Disney+.
Black Widow (film)
After multiple delays due to closed theaters and COVID-19, Black Widow finally has a pretty secure release date. Set in the 2-year gap in time between Captain America: Civil War and Avengers: Infinity War, Natasha Romanoff (Black Widow) must repair her broken relationships and confront her past before she became an Avenger.
Black Widow stars Scarlett Johansson, Florence Pugh, Rachel Weisz, and David Harbour, and hits theaters on May 7th, 2021.
Loki (series)
You love to hate him, you hate to love him. Loki, the charming brother of Thor and an anti-villain of the Marvel franchise, returns to our screens as part of the Phase 4 band of shows. The series will follow Loki as he is brought to the Time Variance Authority organization after stealing the Tesseract during the events of Avengers: Endgame. This apparent crime-thriller, as described by Marvel, is sure to answer some questions we've had about Loki.
Loki stars Tom Hiddleston, and premieres on a TBA date in May 2021 on Disney+.
Shang-Chi and the Legend of the Ten Rings (film)
A rather mysterious project from Marvel, Shang-Chi is the story of Shang-Chi, a trained martial artist, and his confrontation with the past when he is drawn into the web of the mysterious Ten Rings organization.
Shang-Chi and the Legend of the Ten Rings stars Simu Liu, Awkwafina, and Benedict Wong, and premieres in theaters on July 9th, 2021.