Covid Strikes Once Again
Once again 2020 gets worse and worse. Covid-19 cases were steadily rising and falling, but have since changed. In March there was a huge outbreak and it was thought that it wo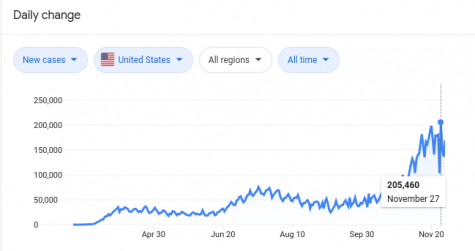 uld all be over by Easter. In July it was thought to all be over by August. Here we are about to go into our 10 month of the Coronavirus taking over our lives. Covid cases took their high on November 16 reporting 7,499 in Tennessee alone, the country's highest was November 27 with a grand total of 205,460 new cases. Hadley Kembel(10) has some concerns…
"It's honestly kinda scary…You know I'm always concerned that my parent could get it or family members, I would be nervous about spreading it to other people" says Kembel
The place that we have all been put in due to the sudden rise is terrifying, and it is March all over again. It all comes down to the question; What may have caused this outbreak? The answer to this question could vary.
Kembel states, "People going places on vacation, being in schools. Probably not wearing their masks, and taking the right Covid-19 precautions may have caused this."
Now it's our 10th month. Most schools are now virtual, masks are mandatory, social distancing is required, new lockdown procedures are in action, stores are selling out of food and toilet paper. When will it all be over? " I have no idea…", Kemble
On the bright side, there is hope for vaccines in the very near future. With time things will go back to the way it used to be.