GIVE 'EM 6
It's football time in Tennessee! The Volunteers have worked so hard fighting COVID-19 to prepare for this upcoming season. On September 26 the Vols got to show just how hard they've worked.
Lloyd Oslonian is a die-heart Tennessee fan. Lloyd wouldn't miss watching the Vols if he had to. He can't remember a time when he wasn't singing Rocky Top while cheering on the Volunteers. So this year, as of any other, he was thrilled to see "his boys" take the field against the South Carolina Gamecocks at William-Brice Stadium.
"With no sports, especially football, on TV to watch due to COVID-19; I was so thrilled to watch some Tennessee Football," Lloyd Oslonian stated.
Going into the game both Lloyd and the Volunteers knew the Gamecocks were doing to bring a fight.
"I knew that it would be a close game, especially with us only having a 3 point favor," Lloyd said.
"When you go on the road in the SEC, nothing comes easy," Tennessee's quarterback, Jarrett Guarantano said.
At the start of the game, Volunteer defense wasn't looking good. South Carolina had gone straight down the field and scored on the first possession.
"The defense was on their heels and it looked like a long night ahead." Lloyd said.
The score at the end of the first quarter was 7 to 7. After seeing the mistakes in the first quarter, the Vols knew that they had to step up in the remaining 3 quarters. Through the ups and downs of this game Volunteer fans were hoping for a last minute South Carolina fumble or Tennessee interception to make sure this game was a victory for the Vols.
The last play is what decided the win for the Volunteers. With 1:24 left in the game, Tennessee was forced to punt the ball to South Carolina due to not getting another first down. The ball was tipped by South Carolina player: Cam Smith. Because the ball was tipped on the punt, it was up for grabs. Tennessee's Jimmy Holiday recovered the ball to make this a definite win for the Vols.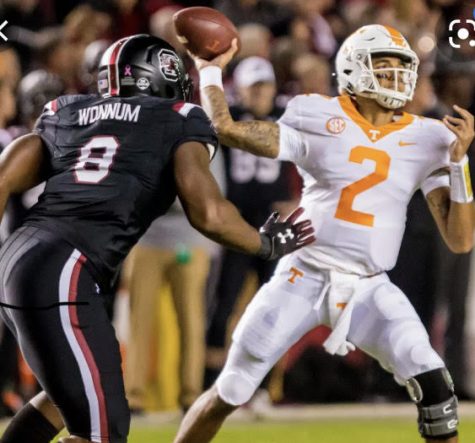 "Most thrilling part of the game! Great play by Jimmy Holiday." Lloyd exclaimed.
The Volunteers take their first victory of the season against the Gamecocks and head back to Knoxville to prepare for the Missouri Tigers.