Teachers–the Inside Scoop
We talk so much about the students in this school, but what about the teachers? Let's see if there's something you didn't know about your teacher! Some might even be shocking.
I asked some of our willing teachers to answer 6 questions about themselves. These were their responses:
Dr. Taft (History):
"My favorite animal is a Tiger and no, not because of the Netflix documentary Tiger King. I always like big cats because they are graceful and powerful at the same time. I think Tigers are just beautiful animals. I have always loved to read, especially if it has to do with history. I have been fascinated with history since I was a kid. I have two brothers: Brian, who is 50, and Jeremy, who is 39. I have twin uvulas! (Look it up if you don't know) I really, really, really don't like behaviors that are obnoxious—especially bullying. I also don't like it when people take liberties with my time. You know what I mean, when someone's mentality is "eh, let him do it, he has all kinds of time on his hands. This is my 23rd year teaching at Lenoir City. I am also retired from the Air Force after serving 25 years. I have been fortunate enough to travel all over the world, but the one place I haven't been that I want to go to is Antarctica."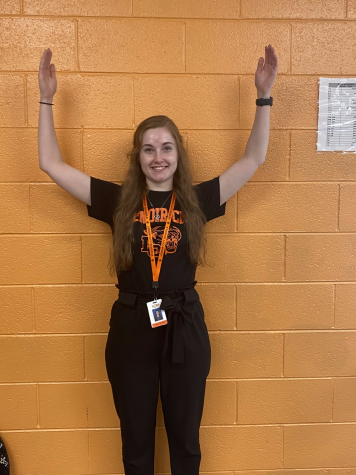 Ms. Alexander (Math):
"[Favorite Animal] I've always thought chimpanzees were cool! They're very intelligent but also playful. I've always loved the color green, but I've never really had a good reason why! I'm a huge bookworm! I love to read any time I have a few spare minutes, especially anything, fantasy, or mystery. I have a big bookshelf in my room, full of books and decorated with all kinds of trinkets from Harry Potter. I love taking personality tests, especially if I can talk my friends into taking them too. It's a neat way to gain perspective on yourself, other people, and the interactions you have. (Tell me I'm not the only one who looked at personality tests after reading this!) I hate being in large crowds of people. That much noise and movement gets super overwhelming and makes me nervous!"
Mrs. Crabtree (English):
"[My favorite animal would be the] red panda. They are so cute. It is like a fox, and a raccoon had a cute, little fluff ball. [My favorite color is] green. It is the color of trees, which my whole house is decorated in. [My favorite hobby is] watching movies. It is a perfect activity year-round. [The amount of siblings I have is] two. One younger sister and one older brother. I have been skydiving and walked the Great Wall of China (both twice). [I dislike] velvet. I hate the way it feels; it is seriously gross. [Also] I can knit!
Mrs. Mullinax (Math):
"My favorite animal is the] Falcon [because it is] tough. [My favorite color is] blue; I just think it's soothing. [My favorite hobby is] obviously chess, but I think crafting and reading are too. [Do you have any siblings?] No, [I am an] only child. I get stage fright really bad. I am very anxious before getting in front of people—[I'm not too fond of] dieting or changing my eating habits at all. I love food, and unfortunately, the worse it is for me, the more I love it.