A Huge Kill Against The Redskins!
It's time for Lenoir City sports to begin and we all know that means… Battle of the Bridge (one of Tennessee's biggest high school rivalry games!) Due to being big rivals, this is a huge game that Lenoir City always wants to win.
In the Lenoir City High school Gymnasium the Lady Panthers volleyball team have spent many long, sweaty days preparing to take this victory over the Loudon Redskins. As seniors, Briana Hiers (3) and Sydney Cook (10) have had several Battle of the Bridge experiences, but this one was a little more special.
Last year, the Lenoir City Panthers lost to the Loudon Redskins, so this summer they worked day in and day out to improve their game.
Sydney Cook (10) said, "We practiced all summer, every single day in the heat of the gym."
"Last year losing to Loudon made us feel as if we let out seniors down. This year, as seniors, we were driven to beat them," said Briana Hiers (3).
As both teams hit the floor, Hiers and Cook were focused and determined to beat the Lady Redskins and had a plan they had worked on all su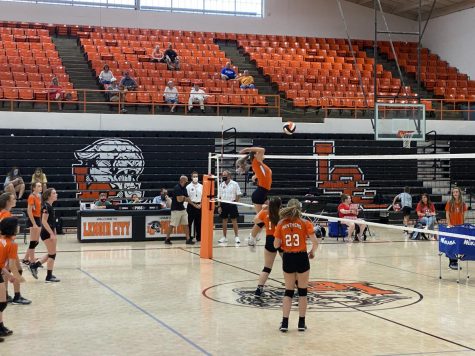 mmer.
"We knew the players and how they played which helped us know what we, as a team, needed to work on and do during the game," Hiers (3) said.
As the final Battle of Bridge of these seniors, it was so special to them that they had crushed the Lady Redskins 3-0. The seniors then knew it was their job to help celebrate the victory that they had worked so hard to get! After the game Heirs and Cook tells exactly how excited they were.
"It felt absolutely incredible, and as a senior losing to them wasn't really an option for us," Hiers (3) exclaimed.
"All of us were so excited, and it was a great feeling! Loudon just wasn't competitively there," Cook (10) stated.
For these seniors this was a game they won't ever forget. The Loudon Redskins head back to Loudon in defeat as the Lenoir City Panthers celebrate their huge victory.