Battle of the Bridge–Shutdown Edition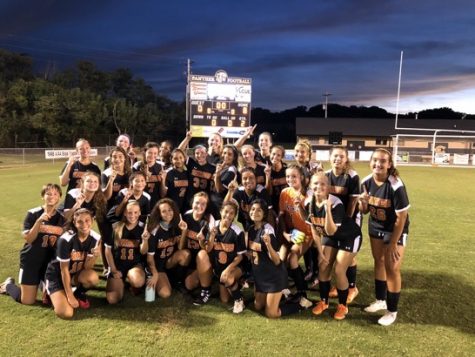 The Battle of the Bridge is big deal around here. This year it was extremely rewarding for the Lenoir City Lady Panthers soccer team. The final score was 8-0, Lady Panthers. Previously, the Lady Panthers had not played as well against Loudon. The very beginning of the game looked a little rough, but about 3 minutes in the Lady Panthers had a shot on goal. And another shot just a minute later. The first goal was made 30 minutes in by Layla Brogdon(10). Coach Pickle prepared the girls for the game in the previous week.
"I think the girls have worked hard to improve their overall skill level when they have been away from high school soccer in the spring. We focus on skill development during the summer and the girls that have been working on their own, show the biggest improvement from year to year. You have to work all year around to get better. We also have more game experience than we did last year so we were a little less nervous and anxious in the Battle of the Bridge game," Coach Pickle said.
For a few of the Lady Panthers this was their last Battle of the Bridge. The seniors this year are Sydnie Cziep, Emily Lowe , Ella Willson, Kimmy Huichapa, and Hailey Webster. All girls played very well in the game. Cziep and Lowe worked together in the midfield. Wilson and Huichapa played defense, while Webster defended the goal as goalie. Sydnie Cziep explained how she felt going into the game and how she prepares the underclassmen for a game like this.
"I felt really confident in the team that we were going to perform well. I think the underclass men know it's a big game because they are our rival and I just help prepare them by having positive energy and high intensity," Cziep said.
By half time the score was 2-0. Lady panthers really started to pick things up.The offense was passing the ball a lot and working together to get towards the goal. While defense was protecting our goal from getting scored on. Layla tells us a struggle they were faced with during the Loudon game.
"At the beginning we weren't combining passes, but when we started doing that we were chillin," Brogdon said.
The final score ended up being 8-0. Lady panthers with a huge win. The team and stands seemed very excited and proud when the game was over.