1917: A Cinematographic Feat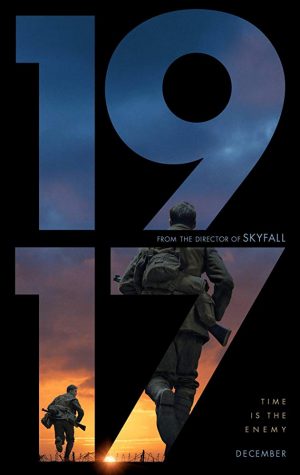 The year was 1917. World War 1 was in full swing. The Allied Powers were a step closer to victory and close on the heels of the Central Powers (there's a little history lesson for you).
In 1917, the newest film from Oscar-winning director Sam Mendes (American Beauty, Skyfall, Spectre), two Lance Corporals of the British Army, stationed in France, receive direct orders from their superior officers (Colin Firth, Benedict Cumberbatch) to deliver a message to the troops at the front line. The message orders the front line troops to call of the next mornings attack against the Germans, as it is a trap.
Lance Corporal Blake (Dean-Charles Chapman) and Lance Corporal Schofield (George MacKay) are required to travel across no man's land, an area of unowned, unclaimed, or uninhabited land between the German and Allied trenches. The men are faced with this difficult, dangerous and almost impossible task partly because Lance Corporal Schofield's brother (Richard Madden) is stationed at the front line and will be killed if they do not deliver the message.
True to many critically-acclaimed war movies, details are the some of most important aspects of the film. The scenes must display the real life events that took place with the utmost respect for the real veterans that the characters are based on. Winner of the 2020 Best Cinematography Oscar, 1917′s attention to detail is incredible. When writing the screenplay, Mendes even based some of his characters and plot lines on the experiences of his own grandfather, who served during World War I.
In addition to the amazing writing and cinematography, Mendes' filmmaking immerses you in the complexity and violence of war. He uses the camera to his advantage and produces many long, continuous takes. In fact, the longest shot of the movie tallies at a total of 8 and a half minutes long.
With a total of 108 wins and 159 nominations, 1917 captures your attention with its thrills, adventure and drama. Its jaw-dropping, edge-of-your-seat action sequences will leave you wanting more. Whether you watch it with your dog, your cat, or your mother, this movie will not disappoint.