Rock the Night Away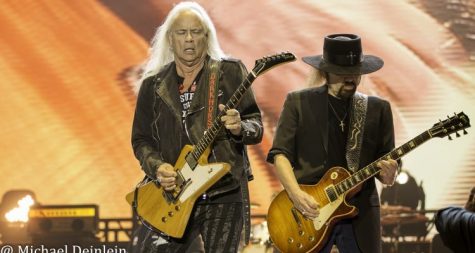 Imagine this: you're sitting around at home reading a book when all of a sudden, your best friend knocks on your door and is practically exploding with excitement over something he just heard about. Turns out, there's a festival focused entirely around your favorite genre of music coming near you, and your best friend just scored you both tickets for all three days.
Two weeks ago, the first annual Exit 111 Festival came to Manchester, Tennessee. The Exit 111 Festival is the first major music event composed of hard rock and metal music. This was the first time I had ever heard of anything like that happening anywhere near me. Naturally, I had to do everything in my power to go and see my favorite bands live. Over the course of three days, a total of 45 rock and metal bands performed for an incredibly massive crowd and show everyone a good time. On top of that, there were two other events happening at the same time: a paranormal cirque and the Red Bull Motocross Experience. Needless to say, this festival was going to be an experience like no other.
Friday, October 11 was the first day of the festival. The day started off pretty strong with bands Black Stone Cherry, The Cadillac Three, and Anthrax. At 8:30 pm that night, Slayer performed, and with this being their very last Tennessee performance ever, they made it a night for all of their fans to remember, playing as loud and as well as they possibly could for the entire hour and fifteen minutes they were given. After that, my favorite band of all time, Seether, went on to perform.
Seether had been planning for this festival for months because their lead singer, Shaun Morgan, had been starting his own charity to help fund suicide awareness. After losing his brother, Morgan chose to use his music to raise awareness for mental health, and he saw an opportunity in the Exit 111 Festival. In the festival, there were three stages: the Heaven stage, the Hell stage, and the Rise Above stage. The Rise Above stage and everything associated with it was all organized and made possible by Seether. Opposite the stage was a large tent where they sold clothes, guitar picks, and other merchandise advertising SAVE, Suicide Awareness Voices of Education. The band also performed smaller acoustic concerts and speeches in the tent throughout all three days of the festival. Finally, everyone had the opportunity to fill a gift basket to send to veterans suffering from mental health issues, fans could write heartfelt notes and clip them to one of the tent's walls to make a mural of positivity and support for SAVE. The idea alone made Seether's presence at the festival my very favorite part, and I hadn't even gotten to experience the other two days of the festival.
The next night, the gates to the festival opened three hours sooner than they did on the first day, opening to bands New Years day and Fever 333. Having been indifferent to Fever 333 before the festival, I didn't really expect too much from the band, but I ended up walking away from the performance absolutely astonished and happily waited for the next band, Nothing More, to start playing. I wasn't disappointed by this band's performance, either, and the second day altogether was a constant string of nonstop fun. After Nothing More, a band named Sleeping With Sirens went on to play and they reached out to their fans and touched their hearts in a way unlike most other bands at the festival. Playing a song called Better Off Dead, all of the fans who had attended the performance felt like they could relate to the story being told in the lyrics. The song was about a girl who had been constantly glossed over, ignored, and forgotten about by all of her peers, thinking "maybe I'm better off dead." Most, if not all, of the people in the audience took a brief pause to reflect on the chorus and take in what it meant to them, finding not only a sort of peace in the song, but also relief that they weren't alone in whatever struggles had overcome them in their lives.
Unfortunately, I didn't have the privilege of being able to stay for all three days of the festival. In spite of this, I chose to close out the night well by watching the band Ghost perform. Ghost added a sizable amount of humor to the festival by interacting with the massive crowd that amassed in front of them in between each song. Referencing the copious amounts of people dressed up in extravagant costumes and the neon signs other fans held up during their performance, they always got a good chuckle out of their fans without fail. Soon, the time came to return home. I left the festival with a huge smile and plenty of warmth in my heart, hoping that this wouldn't be the last time a festival like this comes to Tennessee.