Backstreets Back! (Alright!)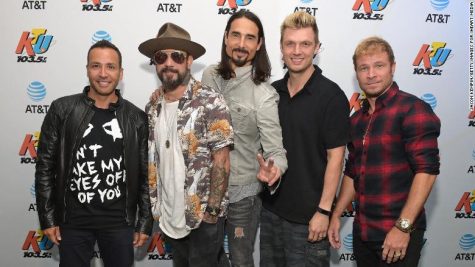 The well known boy-band, the Backstreet Boys who formed in 1993, had their peak in the mid 90s and early 2000s. Like most trends and popular hits, the group fizzled out. Their music was never forgotten, and it was still cherished by many and deemed a classic. Recently the boy-band made a comeback with their newest album, "DNA".
They announced their official return in November of 2018. Their tour of "DNA" starts on May 11,2019 and ends May 30, 2020. Being gone for almost 26 years, the bands new music topped the Billboard charts as of February 4, 2019. They have not only made an unexpected come back, but proven their growth as artists and adults.
This blast from the past excites not just adults who grew up on the Backstreet Boys' music, but the younger generations who enjoy their music and style. Their return did not happen because they missed the fame their talent brought them; it happened because the members of the band are hard workers and love what they do.
"the group didn't show up to sing songs from just any boy band. [They] came to perform with the boy band," Nick Carter said.
While the band has released a new album, they believe to engage their fans they want to leave a feeling of nostalgia in the audience.
"the group danced familiar dances and donned costumes akin to Backstreet's era of 1990s and 2000s dominance. A multi-level stage extended into the arena's pit area, offering someone a close-up look at the choreography in show opener 'Everyone' or crowd-pleasing throwback 'We've Got It Goin' On.'" says writer for the Tennessean, Matthew Liemkuehler.
The boyband's comeback was not nearly as emotional for the fans as it was for the members of the group. Fans were of course overfilled with joy and excitement, but the band mates were grateful for their success and bond being reunited on stage.
"We've got deep history and deep roots with y'all, what's happening in our lives right now is rare and we know it and we just … thank you. Thank you so much," Kevin Richardson said.
The Backstreet Boys impacted the music industry years and years ago more than anyone will know, but with their return their sights are set on recreating their bond on stage while following their dreams.