Mr. Orr's Golden Jubilee Year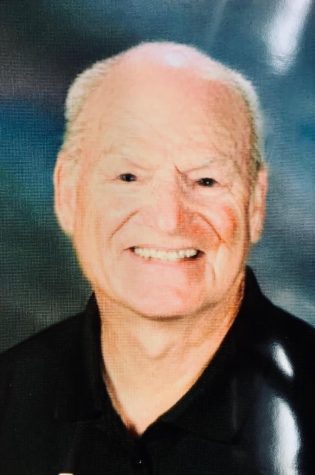 Not only was August 29th Battle of the Bridge but it was also the birthday of a well known, friendly face here at LCHS. This special someone can always be found walking the halls, always willing to lend a hand to any student in need. They take special care to get to know each and every individual around LCHS. After years of giving back to the students, we gave back to them. Happy big five O to our head principal, Mr. Orr!
"The fact people recognized it was fun for me. We had a long weekend and I did a lot of things with friends and family, that would be my favorite part of my birthday," Mr. Orr said.
Not only did Mr. Orr celebrate his birthday with his family and close friends, the staff here at the school threw him a mini surprise birthday bash! He might be over the hill but age won't keep him from being rich in personality. You see, age is only a number.
"The hardest part of my job is being older than Mr. Orr. The second best part was eating his cake for him!" Mrs. Zeller said.
Since there was plenty of cake to go around thanks to Mrs. Clift and our lovely culinary class all of the staff had their chance to get a slice or two. Mrs. Cift helped out in a great deal of this bash. She baked a lovely chocolate cake, aged Mr. Orr's photo for a good laugh, and helped place the walker out in his parking spot tied perfectly with black balloons. She helped tie this celebration together and topped the icing on the cake.
"You know you're old when your knees crack and you need a walker from the parking lot. Losing your hair is a dead give-away that your getting on up in years. One of my favorite memes, 'One minute, you're 21, staying up all night… eating pizza and doing sketchy stuff for fun, then in the blink of an eye you're 50, drinking water, eating salad and you can't do any sketchy stuff because you pulled a muscle putting on your socks.' Next is coffee on the porch, gumming jello and not being able to reach your sock for your gut," said Mrs. Clift
None of this fantastically hilarious birthday would've been possible without her help. She pulled us all together to celebrate a wonderful day. Thank you Mrs. Clift.
Of course, with every birthday comes people making fun of your age and Mr. Orr was no exception.
"He looked like something out of Lord of the Rings," said Mrs. Zeller.
Who wouldn't want to look like a creature of fiction, being normal is boring. We all know he doesn't really look like that but who can't resist a joke? Happy birthday to our lovely head Principal, Mr. Orr