New Teachers On The Perimeter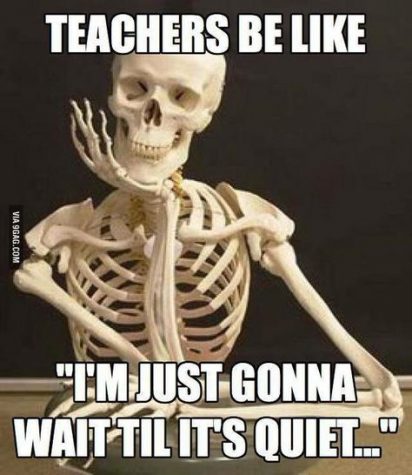 This year, LCHS has 4 new staff members. We have welcomed these new members at our school. As new members, these teachers face some challenges.
When asked if Mr. Lyle was enjoying his time at LC, if he was enjoying teaching here, and if he was having any troubles at our school, Mr. Lyle answered as follows.
"It has been a dream come true, and I mean that very seriously. There is a place where the material meets the students, relationally, and what I mean by that, as a math teacher and a mathematician, is I enjoy the subject material: it interests me; it excites me," Lyle said.
Mr. Lyle cares about all of his students.
"If I know my students, and they aren't bought in that I care about them, want to get to know them, and genuinely see them succeed in life, they aren't going to care about the material or what I try to teach them, so there's that place that those two sides of teaching meet that I strive for daily. When I see that happen, that's the magic; that's the sweet spot for teaching," said Lyle.
He usually fits in with smaller classes; this year, he has a larger class.
"As a first year teacher at this caliber, I have not dealt with classrooms this size before, so the management side of that is a challenge to adjust what I'm used to working with. Sometimes it goes really well, then they're days it doesn't go very well, and trying to very quickly make my best judgment of how to handle the situations, but, again at the end of the day, I don't want to just default to sending my students out of my room, and let the principals deal with them. I want them in the room; I want them to learn; I want them to be engaged; and I want to engage with them in the learning process. If my first gut reaction is to send anyone out of my room, then that's not going to happen, so trying to find out what that looks like on the spot of dealing with any issues that arise in the classroom has been a challenge," said Lyle.
He enjoys doing different things every day rather than the same material each day.
"What I love, first and foremost, is just the pacing. I'm not one who enjoys doing the same thing every single day. In my younger days, I did retail, but the pacing of teaching everyday is a new challenge, even from two classes that are the same subject throughout the day, very different challenges, very different things I have to address, and the way I have to teach has to change slightly to match the culture of the room, and who's in it," said Lyle.
"I love the stimulation of trying to work through all that every single day. I feel like I'll never have a day that I'm bored. I enjoy helping people grow as individuals, which has always been something I cared about greatly, and, as a teacher, that's part of the job, so I love that aspect of it," Lyle said.
His staff members are kind and accepting to him.
"The other staff could not be more welcoming, inviting, and making me feel like I've been here all along. It's really a family here between our staff, and they've made it feel easy to become part of the team and part of the family," Lyle said.
He has come through a journey to get where he is.
"My teaching journey began as a tutor at the college I went to right out of high school,. There was a certain level of satisfaction being able to help people with difficult concepts, seeing them get excited about reaching that new level of understanding, the accomplishment of dealing with something you just do not understand. I studied at a number of places. I started at Pellissippi State Community College because it was affordable and, as a high school student, I didn't get good grades. I failed my ACT, so there weren't many options for me. But I didn't let that stop me, because I knew who I wanted to be. I ended up graduating with an engineering and associates degree, honors GPA, and transitioned to UT briefly until I felt it wasn't quite where I needed to be. I went to Johnson University here in Knoxville and finished my bachelors degree and ministry. This is where I get some of the skills I use as a teacher. To become a teacher, I went back to UT for my masters program I was in for mathematics, so it's been quite the journey," Lyle said.
He believes his students are bright individuals that have so much potential.
"Not only does each class have bright individuals that the material just comes to, but they also put forth the effort, and I've seen bright students who don't put forth the effort, and that's disheartening to see such potential wasted, even if things naturally come easy to them, but probably my favorite type of students are those who it doesn't come easy, but they still try hard to get through the struggle because they're the ones who are going to learn in life outside of high school hard work, determination, and a little luck can over pase skill anyday if that talent doesn't put forth the effort, and will feel so much more self worth and satisfaction when they finally reach their goals or get noticed for it, those are my favorite students," Lyle said.
Mrs. Loan is our new, hard working assistant principal. She assisted Mrs. Long last year and has been assisting the whole district around. She's dedicated to her job, yet isn't afraid to crack a few jokes here and there.
"I am enjoying working here. I have had the benefit of working in all three schools, and I think they all have something special about them," Loan said.
She loves the faculty because of the family feel.
"Last year was the first year I was here interning with Mrs. Long and meeting the students and the teachers, so I just think there's a great feeling with the facility here, and it's kind of like a family feel, and the students are wonderful. I love the older students; that's what I like doing, working with older students, so I've enjoyed this year so far," Loan said.
Her favorite part of the day is joking around with her colleagues during lunch.
"I joke a lot because we do lunch duty everyday and whine, but spending that thirty minutes with the students, who tend to hover around where I monitor, that's the best part of my day. Just to kind of spend it with a group of students, so I think, for me, it's just the community that is LCHS," Loan said.
She has a few troubles, but not many.
"I think the troubles, for me, are the newness of the position, because it's my first year serving as an assistant principal, and, what comes with that is, questioning yourself and not knowing if you're making the right choices. I began this job, because I think you feel that you want to make that difference in someone's life," Loan said.
She has great advice for new-coming teachers.
"I got my bachelors and masters at ETSU, EDS, and UT. I think the best you can do, as a new teacher, is find a group of professionals who are positive and uplifting because the daily challenges of being an educator are hard especially if you're new to the profession," Loan said.
Mr. Code is the new Robotics teacher. He has a passion for helping people. He entered this school because he loved helping people like his exchange students.
"I love teaching at LCHS. I found that the students and staff are very respectful and very nice. My favorite thing is the enthusiasm from the kids in the classes. I do not have any troubles as of yet. Everything has gone very smoothly," Code said.
He loves seeing when a student understands the material after struggling.
"I love making a difference in the future by teaching. I love the 'ah ha' moment when a student is likely struggling and goes ah ha I finally understand it. I also enjoy keeping track of the kids who graduate and seeing what the do," Code said.
He hosts foreign exchange students.
"My wife and I host foreign exchange students and we get great satisfaction in seeing the impact that the year makes on these students. It became my goal to find a career where I could make this type of impact with the people I worked with," Code said.
How he came to where he is now.
"Fifteen years ago I quit my steady job and became certified to teach biology and chemistry and spent the next ten years enjoying my new career as a teacher. My school district wanted to begin an engineering program and approached me about leading this new endeavor and again I set off in an unknown direction and loved it. I studied at Miami University of Ohio and Union College in Kentucky," Code said.
A tip from Mr. Code for teachers.
"A tip for new coming teachers is stay relaxed and learn from your reflections that not everything works, and if you treat the students they will return it," Code said.
Mrs. Johnson, our Culinary Arts teacher, is a kind, dedicated, loving new teacher this year.
"It is amazing how much I am enjoying this school. I was a little worried, but I think it was because it's a different city," Johnson said.
This is where she studied.
"I studied at UT, LMU, ETS. A helpful tip is just knowing what to do is very beneficial and helps them make it come true," Johnson said.
She has a love for teaching what she knows.
"Not sure really why I began teaching; I just enjoyed doing it as an assistant. My three favorite things about teaching are teaching the students something I know, discussing life skills, and seeing them take what I teach them and using it in life," Johnson said.
Her only trouble: the technology.
"My only trouble is trying to work with the MacBooks. My favorite thing about teaching is when I see a light bulb go off in someone's head like 'I got it, I understand.' Many students work hard, and, yes, there are some who are lazy, but the ones who do work do great," Johnson said.
These teachers have come so far with it only being the start of the year. Let's welcome them with kindness and respect.