TikTok: Taking the World by Storm

Tiktok is a social media video sharing site which used to be known as Musical.ly. The app didn't have too much recognition until 2018 when it became widely known by the various dances, trends, and many internet famous creators. The app was the most downloaded app in the U.S. in October 2018, and it's available in over 150 markets and in 75 languages. The most widely known Tiktok trend has been "hit or miss" from a sample of iLOVEFRiDAY's "Mia Khalifa" (2018), which has been used over 4 million times in videos across the world.
"Yeah I know about Tiktok. I feel like it produces good memes, but if you're not using it for memes, I'm not quite sure why you're on there. Stuff like this never dies, like Minecraft and vine yet vine died, rip vine, man," Dursun Asik (11) said.
However, the platform has received criticism for its lack of royalties to music artists. People seem to be getting more and more annoyed by the fact that popular creators don't get paid enough for original content.
"Yeah, I do think it's unfair because there's a lot of people that enjoy tiktok, and get their ideas from those original creators, so they should get paid for it," Taylor Bailey (10) said.
There are a variety of trends produced by Tiktok including memes, lip-synced songs, and comedies. Duets are also a feature that allows a user to duet with another video that has already been created, this feature has led to many different trends.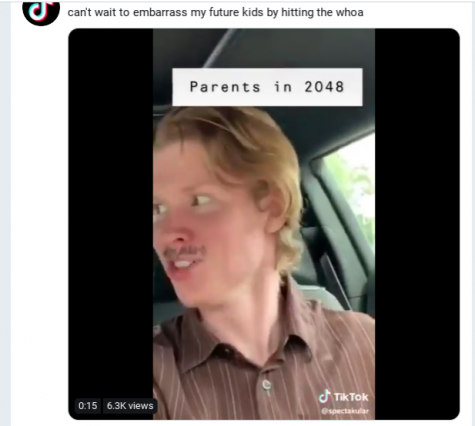 "I feel it is on one hand, one of the most ironic art pieces of the last couple months, on the other hand it is such a playground for cringe, irritation, and predators tracking kids through duets like that one guy, scary. Overall I'd say it's a 5/10 on social media terms. I like the 'why do good girls like bad guys' and then some like neckbeard in a fedora comes out and it looks cool what can I say it's a great trend," Corbin Andrews (11) said.
Nonetheless, Tiktok is a widely popular app that has truly taken the world by storm. It's grown to be an internet sensation with both positive and negative reviews on the fun and creativity of the app as well as the harsh criticism due to the guidelines and creator support it has. Whether the app is a good one or not is a matter of opinion as usually most everything is.