The Paw-fect Class Pet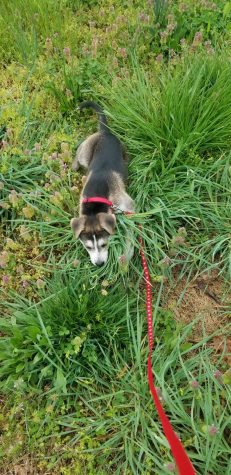 At Lenoir City High School, students have the ability to take Career and Technical classes to prepare for their future. Fur those students hoping to go into Animal Science, they can take Mrs. Rose's classes. And this week, they had a new furry friend to play with, Opossum.
"It was challenging but fun because we got to learn how responsible we have to be to take care of a puppy," says Autumn Lilly (10).
Opossum is the puppy of Mrs. Wallace, the Digital Arts and Journalism teacher. Because of this, it was not just the Animal Science kids who got to play with her.
"Having her in class was not only a delight, but also comforting. " says Sydnee Richardson (10).
The class learned how to take care of the puppy. They gave her a bath, clipped her nails, and took her out to use the bathroom.
"We helped put on a potty training schedule," said Mrs. Rose. "We also helped make her more social. She is a mix between a lab, who are very friendly, and a husky, who sometimes are not sociable towards humans. We wanted to make her be more sociable, but our main goal was potty training."
The training will not only help make Possum become an easier to mange puppy, she will also helped many students prepare for a future of animal science.