Ariana Grande, thank u, next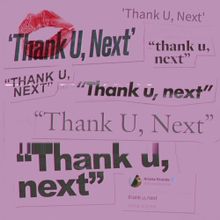 Ariana Grande has been surprising critics since her album Dangerous Woman and currently Grande's fans are gawking over her recent release of her thank u, next album. This twelve track album features only Grande herself and no collaborations. Which is different in comparison to her album Sweetener that Grande came out with back in August.
Fans and critics everywhere were anxiously waiting for this new album to come out since Grande announced the name to it, thank u, next, on November 3, 2018. With the new album out as of February 8, 2019, it has broken records. thank u, next has crushed the global Spotify record for biggest opening day by a female artist, along with the biggest opening 24 hours for a pop album in Apple Music history.
A lot of this stems from her earlier success from the album's title track, which took Youtube's record for most views within a 24 hour release. A fan from LCHS, Ashlyn Gossage (11), has talked about her opinion of Grande's new album.
"I was so excited for her album to come because I knew it was going to be good. I think 'bloodline', 'NASA', and 'bad idea' are my favorite [songs from the album]. This album is one of favorites of her's and I think that she did an amazing job on it." said Gossage.
As of February 19, 2019, three of Grande's songs from this album hit the top three spots on the Billboard Hot 200. She has been the first female artist to accomplish, and the first artist to do this since The Beatles. Kirsten Osborne (11) reflects on this accomplishment that Grande achieved.
"It's great that a woman can achieve this high of an honor in the music industry. Music means a lot to me, I love that I can relate to her and the message she is trying to spread." said Osborne.
Ariana Grande has won amazing achievements with this album, and even with her last album. She's an inspiration to young aspiring artists and just to this generation alone.
Links that I used:
https://news.avclub.com/ariana-grandes-latest-album-thank-u-next-has-broken-a-1832710607
https://www.billboard.com/articles/columns/chart-beat/8498164/ariana-grande-thank-u-next-album-forecast-grows