A Final Farewell to Bones…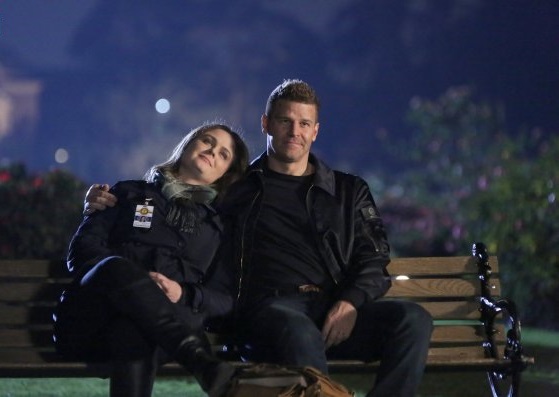 **Spoilers**
"Why would you want to be reminded of the moment when everything almost ended, Bones?" "Because it didn't."- Booth & Brennan, Bones 'The End in the End'
Another television show has officially ended its run. The long running show Bones aired its series finale episode on March 28, 2017, with an emotional goodbye. After twelve years and 246 episodes, fans united around the world to send this show off with an incredible, emotional, and very unforgettable goodbye.
Bones is a crime drama about a forensic anthropologist, Dr. Temperance "Bones" Brennan, and FBI agent Seeley Booth. The show has an unbelievable kind of chemistry between the characters, making it an enjoyable show to watch or binge watch. The first case was of a senator's intern who turns up dead in the lake at Washington D.C.'s Arlington National Cemetery, and the final case was of Mark Kovac, the son of a man Booth murdered when Kovac was six, getting revenge for his father's death twenty-two years later.
Bones is known for its chemistry between the intertwined mass of characters, and the way it affects their jobs. Brennan and Booth, who met a year before the first episode, had a love/hate relationship from the first scene. But after six seasons, they managed to (finally) make a relationship work. In the Jeffersonian field, Brennan's best friend is Angela Montenegro, a forensic facial reconstructionist. They met a year before the pilot and have been friends throughout the entire series. Angela is married to the institution's botanist and mineralogist, Jack Hodgins. Hodgins worked alongside Brennan and her intern, Zack Addy, who was institutionalized after falsely confessing to murder. The interns, Daisy Wick, Colin Fisher, Arastoo Vaziri, Wendell Bray, and Vincent Nigel-Murray, Clark Edison, Finn Abernathy, Oliver Wells, Rodolfo Fuentes, and Jessica Warren, help Booth and Brennan throughout the series. On the FBI team, Booth works, reluctantly at first, alongside Dr. Lance Sweets. Sweets, along with Vincent, were killed off the show by serial killers. There they worked with Caroline Julian, a prosecutor, and newcomer James Aubrey, who starts after Sweets dies. In turn, this makes a big tangled mess of partnerships.
Where the show has been going on for ten years with such a tight-knit cast, several friendships were formed on and off the show. The wrap party that FOX Studios had was a tear-filled event, mainly because the thing they had focused twelve years of their life on, the things that they had to sacrifice, including their family, but they became their own little family. At the 2016 Comic-Con in San Diego, California, TJ Thyne, who plays Hodgins, said that "the inbetweens, what you don't get to see, the behind the scenes conversations, the behind the scenes laughter and support for each other, that's what I'll miss the most." It may not have ended how we wished it would have, but the final two episodes paralleled an incredible amount of events from the earlier seasons that it was exactly what fans wished for. For all that it is worth, at least we got the 447 mystery solved.
It's hard to see your favorite show leave the air, but Bones will now forever stay on the FOX Studios wall with the other amazing shows that came to an end. Eugene Byrd, who plays Dr. Clark Edison, said to the Comic-Con 2016 crowd about the final season, "This is a family, and it's hard to say goodbye but all good things must come to an end." Bones will always have a place in people's hearts, and it had an incredible and unforgettable run.